Davis, Hasan. The Journey of York:  The Unsung Hero of the Lewis and Clark Expedition. Capstone Editions, 2019.  40 p. 978-1-543-51282-3. $17.95. Grades 3-5.
Written in first person, this account of the Lewis and Clark Expedition is told from the viewpoint of York, the African American enslaved man who accompanied the men on the journey. The text is written in a diary format and begins with an explanation of the formation and mission of the Corps of Discovery in the front matter and how William Clark ordered his slave York to join the expedition. There is one diary entry per two page spread with the text on one side and full bleed illustrations on both pages. The author discusses the friendship that York had with one of the men, Charles Floyd, who was the only one who died on the journey. Hasan shows how York was not treated as an equal, but how the Native Americans at times thought York was the leader of the group and called him "Big Medicine." The text highlights all the main segments of the journey, like the stay at Fort Mandan and Fort Clatsop, but does not go into much detail. Hasan points out that York was permitted to vote with the rest of the party on the location of the final camp in Washington State. However, he points out that Clark did not include York's name on the report to President Jefferson, thus depriving him of a reward of money and land. In the author's note, Hasan discusses some theories about York's fate after the expedition. Also included are a list of resources and a statement that Davis did extensive research on this topic and consulted with a historian. The author points out that he has taken creative license with York's thoughts and feelings, for which there is no documentation. Harris's colorful illustrations make the story come alive. The details of the clothing look authentic and depict the leaders of this military operation in uniform.  
THOUGHTS: This narrative of the Lewis and Clark Expedition is a good introduction to this chapter of American History and provides a unique viewpoint. It would be interesting to compare and contrast other texts in which York was not the principal narrator or to Pringle's American slave, American Hero: York of the Lewis and Clark Expedition. This attractive text is part of a Capstone collection of narrative nonfiction picture books.
910  Geography and Travels          Denise Medwick, Retired, West Allegheny SD
917.3 United States
92, 921 Biography
973.4 Washington through Jefferson Administration
---
Cole, Bradley. Tyrannosaurus Rex. (Dinosaurs 4-D) Pop!, 2019.  24 p. 978-1-532-16183-4. $19.00  Grades K-2.
Brachiosaurus. 978-1-532-16178-0
Stegosaurus. 13: 978-1-532-16181-0
Triceratops. 13: 978-1-532-16182-7
Ringstad, Arnold.  Allosaurus.  978-1-532-16177-3
Coelophysis. 978-1-532-16179-7
Diplodocus. 978-1-532-16180-3
Velociraptor. 978-1-532-16184-1
This text on dinosaurs is designed for young paleontologists. The author uses simple text consisting of two to three sentences per page. On each page, there is an engaging drawing or photograph. The short chapters discuss the behavior and diet of this ferocious predator as well as some information about the T. Rex's fossilized remains. The term 4D in the series title refers to the fact that the reader can scan the QR code, which leads to a site containing activities and lesson plans.
THOUGHTS: This book will appeal to the dinosaur lover who will enjoy looking at a photograph of a foot long T. Rex tooth. Purchase where dinosaur books are in demand or need updating.
567.912 Dinosaurs          Denise Medwick, retired, West Allegheny SD
---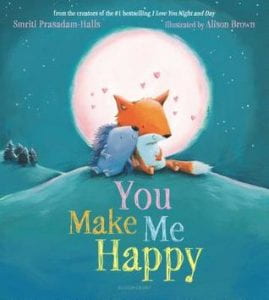 Prasadam-Halls, Smriti. You Make Me Happy. Bloomsbury, 2019. 978-1-681-19849-1. 32 p. $17.99. Grades K-2. 
Two unlikely friends, Fox and Porcupine, demonstrate the joys of a true friendship. Lighthearted rhyming prose "You make me happy/you make me sing./ There's a bounce in my footstep like bunnies in spring." (Prasadam-Halls, 1) and brightly colored full-page illustrations combine to make a joyful, endearing read about enjoying the company of a loved one. Refreshingly happy, this is an all around feel-good book to share with young children.
THOUGHTS: Light and carefree, this book is sure to be a favorite read aloud.
Picture Book          Jackie Fulton, PSLA Member
---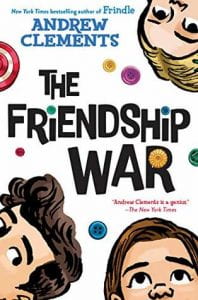 Clements, Andrew. The Friendship War. Random House, 2019. 173 p. 978-0-399-55759-0. Grades 3-5. $19.99.
This is Clements' latest story of school and friendship. Grace is a sixth grader who unintentionally starts a fad in school after bringing in some buttons from her grandfather's business. Soon the whole school begins trading buttons, which creates friction between Grace and her best friend Ellie. Things become competitive and disruptive, leading Grace to take drastic steps in an attempt to end the button craze. Clements provides some interesting information about buttons and their materials through the character of Grace's new friend Ben. The story also touches on the issue of grief after the loss of a grandparent. 
THOUGHTS: Fans of Clements' other works will enjoy his latest offering. The target audience will be able to relate to the topics of friendship, bullying, and following the latest trend, and this title will surely hold the reader's interest. Purchase where Andrew Clements books are popular.
Realistic Fiction          Denise Medwick, Retired, West Allegheny SD