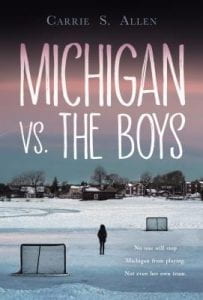 Allen, Carrie S. Michigan vs. The Boys. KCP Loft, 2019. 978-1-525-30276-3. 304 p. $17.99. Grades 9-12.
Michigan Manning is about to have the senior year she's always dreamed of, having been selected as Assistant Captain for her hockey team with her best friend taking the big C. But nothing gold can stay, and shortly after receiving their patches the team is defunded. Without the team, Michigan won't be able to get a scholarship to college and is rightfully devastated. That is until someone has an idea; why not play for the boys' team? Knowing how much work she'll have to do, Michigan tries out for the team, landing a ranking in the top five players. The problem? The boys aren't happy with it. As she strives to maintain her spot and hopefully play well enough to earn a scholarship, Michigan faces challenges and abuse she never expected and events take a turn she never could have imagined.
THOUGHTS: This was one of the most powerful, motivating sports stories I've ever read. This is a story for anyone who has ever had to be strong, who has ever tried to blaze a trail, or who has ever had to speak out. Michigan's story will inspire readers to take charge and take what's theirs.
Realistic Fiction, Sports         Samantha Helwig, Dover Area SD
---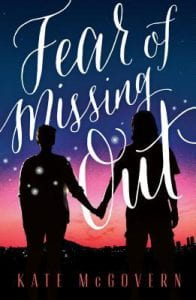 McGovern, Kate. Fear of Missing Out. Farrar, Straus, Giroux, 2019. 978-0-374-30547-5.  312 p. $17.99. Grades 7-12.
Astrid was the girl who survived brain cancer, until it came back. Astrid's mom is frantically researching treatment options, and lobbying to get her into a new drug trial, but Astrid faces facts. Astrid believes in science, and she knows the odds for her survival are not good. But no one else, her mom; her younger brother; her best friend, Chloe; and her boyfriend, Mohit, is willing to give her up so easily. When Astrid attends a medical symposium, however, she is intrigued by a presentation on cryopreservation. In order to scientifically research the concept of freezing her body, she convinces Chloe and Mohit to go on a cross-country road trip to the cryopreservation facility. Chloe starts a fundraising Vlog and Astrid chronicles the trip and their detours to kitschy tourist attractions. As the trip progresses Astrid, reading her body, knows her time is limited. McGovern presents a raw look at cancer, and the emotional toll it takes on the patient, as well as those who love her. There are times when Chloe and Mohit lash out at Astrid, not understanding why she seems ready to let go. Mohit states, "I don't feel sorry for you… I feel sorry for me. And Chloe. We're the ones left behind." Eventually, Astrid takes control of what is left of her life and decides how she wants to die. This is not a heroic look at cancer, but 300 pages of honest emotion from all involved.
THOUGHTS: Hand this book out with a pack of tissues. It is a beautiful, soul wrenching read. Even though you know how it's going to end, it still hurts.
Realistic Fiction          Nancy Nadig, Penn Manor SD
---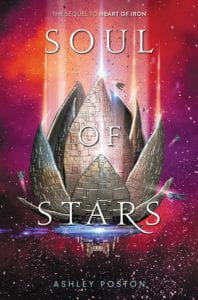 Poston, Ashley. Soul of Stars. Balzar and Bray, 2019. 978-0-062-84733-1. 424 p. $17.99. Grades 7-12.
The sequel to Heart of Iron continues the sprawling space saga without missing a beat. Six months after escaping the HIVE-instigated battle for the Ironblood crown, Anna and her cobbled together family on the spaceship Dossier are trying to find the mythical Great Dark, the evil that is overtaking the universe. She is bereft by the betrayal of Di, her Metal best friend, but still believes his original core is intact. A search for the rumored individual who brought a Metal back from the HIVE goes dangerously wrong, and Anna and the crew find themselves on a chase across galaxies to find an object, the heart, that will allow The Dark to assume complete control. However, Anna learns that destroying the heart will also destroy all the HIVE'd Metals, and she faces an unbearable choice. The pace rarely slows down, but not at the cost of character development. Each of our favorite characters, human and Metal, from Heart of Iron plays an integral part in the story as secrets are uncovered and identities revealed, for a satisfying conclusion to the story.
THOUGHTS: Purchase the book for fans of Heart of Iron, but also use it as an opportunity to reintroduce the series to fans of Star Wars. 
Science Fiction          Nancy Nadig, Penn Manor SD