MacLachlan, Patricia. Dream within a Dream. Margaret K. McElderry Books, 2019. 978-1-534-42959-8. 119 p. $16.99. Grades 4-7.
Thirteen year old Louisiana and her ten year old brother Theo are spending the summer on Deer Island with their grandparents. Louisa, who loves to write, would rather be with her parents on their latest bird watching expedition, but her brother wants to stay on the island forever and read books. Grandfather Jake is losing his vision and is trying to etch faces into his memory before he loses it completely. Louisa meets other inhabitants of the island, including 14 year old George and his family. She experiences her first kiss with George, and the theme of romantic love is peppered throughout the story. George's parents say that romance helped pass the time during a severe storm, Louisa's grandparents enjoy slow dancing without music, and George touches his fingers to Louisa's lips and dances close to her in the water. The plot deals more with feelings than events. The only real conflict in the story occurs when the parents return to the island intending to take their children on the next expedition. The parents are surprised and somewhat saddened to learn that the siblings want to stay on the island with their grandparents.
THOUGHTS: Hand this one to readers who prefer relationship books without much plot development and to fans of MacLachlan's other books.
Realistic Fiction          Denise Medwick, Retired, West Allegheny SD
---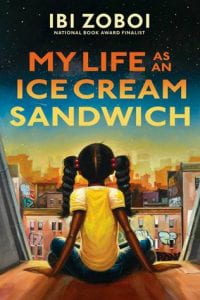 Zoboi, Izi. My Life as an Ice Cream Sandwich. Dutton, 2019. 978-0-399-18735-3. 250 p. $16.99  Grades 4-8.
Ibi Zoboi's (American Street) historical fiction middle grade novel with a sci-fi vibe features Ebony-Grace Norfleet Freeman, or, as she likes to call herself, E-Grace Starfleet. Ebony-Grace hails from Huntsville Alabama, where she lives with her mother and, up until recently, her beloved grandfather, one of the first Black engineers at NASA. When trouble brews, Ebony-Grace is sent to Harlem for what is supposed to be a few weeks with her father. Southern girl Ebony-Grace does not take to the hustle and bustle of New York City, which she calls "No-Joke City." Harlem in 1984 is a vibrant place, but Ebony-Grace finds hip-hop, breakdancing, and double-dutch more unfamiliar and alien than outer space. As weeks drag into an entire summer, she retreats into an imaginative world fed by her love of Star Trek, Star Wars, and NASA. The girls in the neighborhood think she is crazy: they tell her she has no "Flava," and nickname her "ice cream sandwich." Ebony-Grace never completely assimilates, but more importantly, she starts to appreciate people and perspectives different from her own. The story, setting, themes, and characters are all unique and compelling, but the narrative thread is often difficult to follow. There is a thin line between the bizarre stories going on in Ebony-Grace's head and the actual goings-on of 126th St. in Harlem that results in an overarching sense of hyperreality. Some cartoon panels illustrating Ebony-Grace's fantasies are included throughout.
THOUGHTS: A fascinating but flawed book. Many readers are likely to find My Life as an Ice Cream Sandwich too frustrating to finish (even if the awesome cover draws them in), but the book may find an appreciative audience among young teens and tweens who love Star Trek and Star Wars, and, like Ebony-Grace, sometimes feel like aliens in the real world. A possible purchase for middle school libraries where science fiction is popular. 
Historical Fiction          Maggie Bokelman, Cumberland Valley SD
Ebony-Grace's world knows no bounds. Her beloved grandfather, a pioneering black engineer with NASA, has shared his love of space with her and encouraged her dreams.  Her imagination has conjured up a universe populated with villains and heroes where she and her grandfather battle evil so good can triumph. When a hushed up crisis with her grandfather erupts, Ebony Grace is sent to New York City to spend time with her father. Harlem of 1984 is a whole different galaxy from Huntsville, Alabama. The Harlem girls are doing double-dutch, playing in the fire hydrants, rapping and breakdancing. Her New York friend, Bianca, no longer wants to act out make believe space missions, telling Ebony-Grace to grow up. Ebony longs to go home, and to talk to her granddaddy, but she is continuously redirected from contact with him. The truth of her grandfather's trouble is needlessly mystified. There are hints of a possible scandal, amplified when Ebony learns he no longer works at NASA. Only at the end of the book does the reader discover the truth, that he is dying in the hospital. Throughout her Harlem summer, Ebony tries to balance her true self with the kids in Harlem, locking away her "imagination place," as she attempts to figure out how to be part of a very different crew. Near the end of the book Ebony makes a friend who shares her passion for space and returns to Huntsville more knowledgeable about dealing with alien life forms in their home environment, and a more mature understanding of her imagination and dreams. 
THOUGHTS: Ebony Grace is a spunky protagonist whose lively imagination shines. Readers will identify with Ebony not knowing how to fit in and will root for her to follow her dreams. 
Realistic Fiction          Nancy Nadig, Penn Manor SD
My Life as an Ice Cream Sandwich follows Ebony-Grace who lives in Alabama in 1984. When the book opens, she is headed to New York City to spend the summer with her father which she is not happy about. Ebony-Grace and her grandfather share a love of space and Star Trek, and she feels like an alien coming to New York City. This place is nothing like her hometown, and she misses her family and her grandfather especially. Ebony-Grace struggles to make friends and fit into the new life that she is forced into. It is never stated that Ebony-Grace has a disability, but there is something going on as you read through the novel. There is also something going on with her grandfather, but that is never directly addressed or even dealt with. The book mainly focuses on Ebony-Grace trying to make friends and trying to fit into New York City.
THOUGHTS: I have read the other two books published by Ibi Zoboi (Pride and American Street) and those were geared for Young Adult audiences; meanwhile, this book is clearly for middle grade readers. The main character feels like she has some form of autism, or Aspergers, but there is nothing stated within the book. The main character is extremely well created and thought out; her friendships and problems with getting friends feels realistic and true to life. I really enjoyed this book and hope that Ibi Zoboi writes more middle grade.
Realistic Fiction          Mary Hyson, Lehigh Valley Regional Charter Academy
---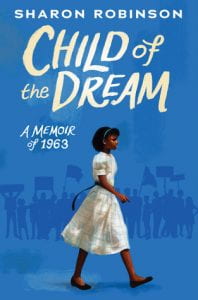 Robinson, Sharon. Child of the Dream: A Memoir of 1963. Scholastic Press, 2019. 978-1-338-33113-4. 240 p., $16.99. Grades 4-7.
Sharon Robinson tells of her coming awareness of the civil rights movement in the 1960's when she is thirteen. After his retirement from baseball her famous father, Jackie Robinson, is active in the civil rights movement, but has sheltered his children from the harsher realities. They live very comfortably outside of New York City in mostly white suburban Stamford, Connecticut. Although her parents have their children join Jack and Jill of America, an organization which is dedicated to leadership development in young African Americans, the children feel isolated as there are few African Americans in town. When she hears the speech by George Wallace, declaring "segregation now, segregation, tomorrow, segregation forever," Sharon begins to wonder where her place is in this struggle. Her parents realize that they need to expose their children to more. During 1963 the Robinsons host fundraisers at their home to help support the work of Dr. Martin Luther King, Jr. and attend the March on Washington for Jobs and Freedom. Shortly after this triumphant summer of activism, the four young girls were killed when a bomb blew up at the Sixteenth Street Baptist Church in Birmingham, Alabama. Sharon and her family were overcome with sadness but found strength to carry on.
THOUGHTS: This is a well-rounded story in that Sharon blends her activism with other teenaged concerns such as the first dances, boys, riding her horse, and getting along with her brothers. The importance of this book shows that even though she has lived a privileged life, she wants and needs to be connected with the people who are still struggling for equal rights.
973.92, 92, Autobiography, Memoir, Civil Rights         Jeannie Bellavance, Retired
---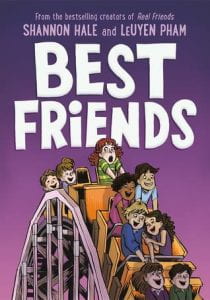 Hale, Shannon. Best Friends. Roaring Brook Press (First Second). 2019. 978-1-250-31745-2. 239 p. $21.99. Grades 4-7.
Shannon's looking forward to 6th grade and is thrilled that she has become one of the popular girls but learns that navigating the social tract can be very tricky.  Today's cool songs and TV shows can be out-of-date by tomorrow. She finds that there are traps and petty power plays as the "rules" change seemingly arbitrarily.  Shannon gets upset when her friends try to trick her, or she realizes that she is falling into some of the same habits as the "mean" girls. Shannon begins to question her so called friendships as she starts to decide what she wants. Does she really want to be nasty and hurt others? To help herself cope with different situations, Shannon is writing a fantasy about Alexandra a lonely rich girl who is going through some of the same issues. Shannon also struggles with her teacher who accuses her of not paying attention. It is another teacher who recognizes Shannon's skills, boosting her confidence. When it is time to select courses for seventh grade, Shannon has the self-understanding and courage to choose what she wants, her own direction.
THOUGHTS: Sixth grade can be a time of growth, but it can also be very stressful as preadolescent girls (and boys) try to discover who they are. At one point being part of a group is important, but does it come at a cost? Through her own experience Shannon Hale offers insight and guidance.  
Graphic Novel          Jeannie Bellavance, Retired