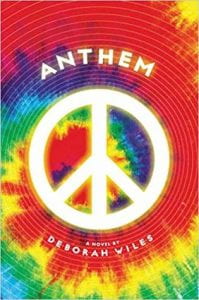 Wiles, Deborah. Anthem (The Sixties Trilogy #3). Scholastic Press, 2019. 978-0-545-10609-2. 480 p. $19.99. Grades 4 and up.
It's the summer of 1969. The summer of Woodstock, hippies, the Vietnam Conflict, and the Draft. After heated disagreements over Vietnam, Molly's brother, Barry, left their home in Charleston, SC, one year ago. Now, Barry's draft notice has arrived, and it's up to Molly and their cousin, Norman, to find Barry and get back to Charleston in 21-days. As their adventure unwinds, Molly and Norman meet people at every stop that introduce them to life beyond their experiences. They experience music beyond their wildest dreams in Atlanta, Memphis, and LA. They help people along the way in Arkansas, Oklahoma, and New Mexico that introduce them to love, heartbreak, pain, suffering, and hope. They see the changing United States through the land, the people, the music, and others' experiences. But when they reach San Francisco, will Barry be willing to return and face life in the Army, or will their adventure lend more for Molly and Norman than either thought possible?
THOUGHTS: I have enjoyed Wiles's Sixties Trilogy thoroughly. Wiles's inclusion of primary source documents throughout help readers better understand this decade of change in the United States, especially in this novel. The primary sources included do not directly correlate with Molly's and Norman's story, but instead provide insight into the Vietnam War both in the US and in Vietnam. Wiles uses song titles with original production information at the beginning of each chapter which many students will use as a launch point into the music and figuring out the correlations between the titles and the chapters. Although written for middle grade students, this title, and trilogy, are insightful for all ages and recommended for upper elementary, middle school, and high school collections.
Historical Fiction          Erin Bechdel, Beaver Area SD
Book is too small a word to describe Wiles' third entry in her 60's trilogy. It is a gift wrapped seminar on the 1960s, particularly the year 1969. But seminar sounds dry, and Anthem is anything but dry. It is bursting at the seams with color, texture, sound and emotion. Molly's brother, Barry, ran away from home after an argument with his father, and the family has not heard from him in a year, when his induction notice arrives. Molly's mother decides 14-year-old Molly and her 17-year-old cousin, Norman, must go find Barry and bring him home before his army physical date. Barry has secretly been writing to Norman, and the last letter came from San Francisco. Despite the misgivings of both teens, they pack up Norman's school bus (a parting gift from Barry) and leave Charleston South Carolina. Norman, a drummer, stipulates that the trip must include music, and therein lies the cohesive thread of their journey, as they travel the country ingesting the culture and music of the era, meeting people vastly outside their conventional upbringings, and growing up so fast it can be heartbreaking to read. But aside from the novel, Anthem, like Wiles' other books, is a cultural scrapbook of photos, news clipping and quotations which add richness to the story and understanding of the era. And, this may be the first book you've read with it's own playlist, (the only thing that could make the book better is if there was a comprehensive list of all the songs mentioned in the story) the glorious soundtrack of the 1960s. The individuals Molly and Norman encounter along the way are richly nuanced, even if their appearances are brief. When Molly and Norman arrive in San Francisco, the conclusion of their quest is bittersweet, but a perfect ending to the book and the decade.
THOUGHTS: A literary tour de force, Anthem stunningly captures the upheaval of the era, as "nice" teens like Molly and Norman are introduced to a wider world which often contradicts what they thought they knew. A first purchase for libraries serving intermediate grades and higher.
Realistic Fiction          Nancy Nadig, Penn Manor SD

---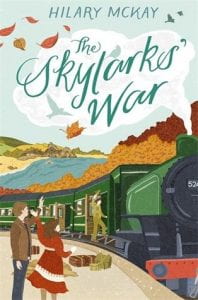 McKay, Hilary. The Skylarks' War. Margaret McElderry Books, 2019. 978-1-534-46004-1. 324 p. Grades 6-8. $17.99.
Previously published under the title Love to Everyone, this work of historical fiction is set in London and is the story of Clarry Penrose, a young girl who lives with her brother and father. Ever since the death of the children's mother in 1902, Mr. Penrose has been emotionally distant from his children. For the most part, Clarry and Peter must fend for themselves, although they get some guidance from a friendly neighbor and housekeeper. The high point of their year is summer, which they spend with their grandparents and cousin in Cornwall. Clarry wants to have the same opportunities as her brother and cousin Rupert, like going to school and learning how to swim. Peter is sent off to boarding school with his cousin and with the encouragement of her brother and some friends, Clarry happily begins school also. Life has taken a turn for the better for the children and their friends, but then World War I breaks out. After Rupert joins the army and is presumed killed in action, life for the Penrose family changes forever. McKay has written an engaging novel and takes us on a journey of Clarry's life from infancy through young adulthood. There is a bit of a surprise ending, and readers will wish for a sequel.
THOUGHTS: Purchase for readers who enjoy books about family life with well-developed characters or for those who appreciate historical fiction.
Historical Fiction          Denise Medwick, Retired, West Allegheny SD
---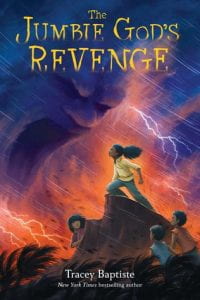 Baptiste, Tracey. The Jumbie God's Revenge. Algonquin Young Readers, 2019. 978-1-616-20891-2. 263 p. $16.95. Grades 3-7.
Corrine has had enough dealings with the jumbies, the magical creatures that stir and stalk on her Caribbean island home, thank you very much. But when a storm, a monster hurricane unlike anything ever seen, strikes the island, she knows it must be the work of a powerful jumbie, but why? She and her friends first work to move their friends and family to safety, then turn their attention to things mystical and magical. Corrine talks with jumbie Mama D'Leau and realizes her own past actions may lie at fault, upsetting the great god Hurican, who now seems determined to destroy the island in revenge. Can Corrine appease the god and set things right before it is too late? This third entry in Baptiste's Jumbies series again highlights Corrine's love of family and friends, and loyalty to her community. She and her friends may act recklessly at times (certainly in the view of their families), but they are wise in the ways of the jumbies, trust each other implicitly, and are willing to put themselves at risk to save those they love. Baptiste lovingly depicts life on their Caribbean  island and weaves in its folklore to craft a warm story in the eye of the storm. Corrine's firm faith in family saves the day and the island.
THOUGHTS: While the story can hold up as an independent read, having read the prior two books will vastly improve the experience. Introduce the series as a whole to lovers of Rick Riordan Presents books and other folklore and mythology fans. Corinne is a feisty, loyal girl readers will enjoy. 
Fantasy (mythology)          Nancy Nadig, Penn Manor SD
---
Wilson, Mark. Owling: Enter the World of the Mysterious Birds of the Night. Storey Publishing, 2019. 978-1-612-12962-4. 120 p. $18.95. Grades 3-8. 
Owling introduces readers to the 19 species of owls native to North America. An introductory chapter informs readers about general owl characteristics, including physical characteristics, hunting habits, mating, nesting, and the owl life cycle. Two to four page profiles of each of the 19 species of North American owls comprise the majority of the volume. Each profile includes unique identifying characteristics, geographic range, description of the owl's hoot/vocalizations, nesting behaviors, and hunting habits and prey. Numerous photos show the owls in the wild, in flight, hunting, and nesting. Close up photos are used to show unique physical characteristics of each species. Additional chapters discuss finding owls in the wild and creating an owl friendly environment, as well as working with owls (scientists, educators, rehabilitators, etc).

THOUGHTS: This is one of the best non-fiction books I have had the opportunity to read in the past year. The author is an owl educator and photographer, and his passion and knowledge about the subject matter is readily apparent. This title is sure to be popular with students interested in animals or wildlife who will enjoy the fantastic photos and comprehensive information.
598.9 Birds          Elizabeth Henry, Lampeter-Strasburg SD