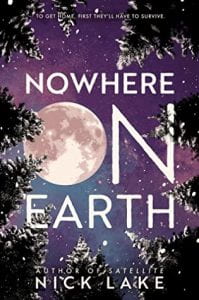 Lake, Nick. Nowhere on Earth. Alfred A. Knopf, 2020. 978-1-984-89644-5. 292 p. $17.99. Grades 7-10.
Emily would do anything to protect her little brother, Aiden, even stowing away on a bush plane when the men in black start following him around town. But crashing in the Alaskan wilderness wasn't in the plan. However, the rapid arrival of men with guns, shooting at them, propels Emily into action. She, Aiden, and Bob, the injured pilot, head out across the dangerous landscape, trying to put distance between themselves and the hunters, making their way towards safety. The book opens with the plane crash and the adrenaline doesn't let down. Emily's and Aiden's backstories are revealed as the story unfolds, including Emily's tempestuous relationship with her parents. Emily does come to appreciate the myriad survival lessons her ex-special-ops father taught her, as well as the beauty of the Alaskan territory, but deeply resents her parents for moving from Minneapolis and forcing her to leave behind her beloved ballet. The book begins as an adventure-survival tale, but then evolves into so much more, including a massive plot-twist and several thought provoking ethical issues. A few threads could have been more fully developed, including a hint that the plane crashed due to sabotage, but readers will be forgiving.
THOUGHTS: This hard to pigeon hole book should find a home with a wide variety of readers. Perfect for those who prefer a book that grabs you from the first page, but also gives satisfaction to readers looking for some depth.
Science Fiction          Nancy Nadig, Penn Manor SD