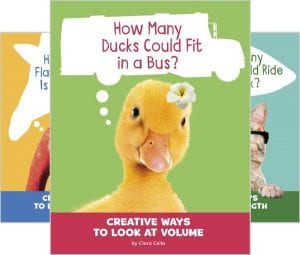 Cella, Clara. Silly Measurements. Capstone, 2020. $21.99 ea. $87.96 set of 4. Unpaged. Grades PreK-1. 
How Many Ducks Could Fit in a Bus? Creative Ways to Look at Volume. 978-1-9771-1324-5.
How Many Flamingos Tall Is a Giraffe? Creative Ways to Look at Height. 978-1-9771-1322-1.
How Many Kittens Could Ride a Shark? Creative Ways to Look at Length. 978-1-9771-1323-8.
How Many Llamas Does a Car Weigh? Creative Ways to Look at Weight. 978-1-9771-1325-2.
The Silly Measurements series encourages pre/early readers to learn about measurements via humorous comparison between non-traditional measuring units. For example, in How Many Llamas Does a Car Weigh?, in addition to the comparison between llamas and cars (in case you are wondering, a car weighs nine llamas), other items compared include clowns and camels, moose and motorcycles, and baseball and bunnies. Each comparison features large photos and large, colorful text. 
THOUGHTS: A great way to begin to introduce the concept of measurement to young readers, these books are sure to bring a smile to the face of readers with their choice of unusual comparisons. They would also be a great option for those looking for math-related read alouds for PreK-1 age students.
530.8 Measurement          Elizabeth Henry, Lampeter-Strasburg SD