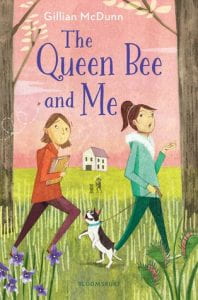 McDunn, Gillian. The Queen Bee and Me. Bloomsbury Children's Books, 2020. 978-1-681-19751-7. 279 p. $16.99. Grades 5-7. 
Meg has always been joined at the hip of best friend Beatrix, except for the times when Beatrix freezes her out. Afraid of angering Beatrix and losing the benefits of being her friend, Meg decides to follow along while Beatrix plots to bully new student Hazel and her mom out of town. When Meg and Hazel get partnered up for a bee project in a science elective, Meg struggles between following her passion for science and doing whatever it takes to keep Beatrix from getting angry. It turns out Meg and Hazel have a lot in common, and they have fun together. Can Meg stand up to Beatrix even if it means risking years of friendship and the comfort of having a best friend? By the end of the story, Meg faces many of her fears, including a fear of bees, oral reports, and standing up to Beatrix which makes a sweet, but predictable, ending. 
THOUGHTS: As an adult reader, I had trouble finishing the book due to the predictable storyline. I anticipate young readers enjoying and relating to this story once they have the book in their hands and time to read.
Realistic Fiction          Jaynie Korzi, South Middleton SD