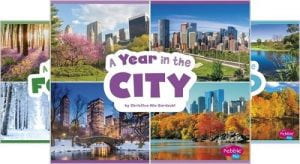 Gardeski, Christina Mia. Season to Season. Pebble Plus, 2020. $20.54 ea. $82.16 set of 4. 24 p. Grades PreK-2.
A Year in the City. 978-1-977112-87-3.
A Year on the Farm. 978-1-9771-1293-4.
A Year in the Forest. 978-1-977112-89-7.
A Year at the Pond. 978-1-977112-91-0.
Readers can explore the four seasons as seen on a farm or in a city, forest, or pond. Large color photographs compliment simple, factual text that covers the basics of changing seasons in each setting. Spring on the farm finds farmers plowing, planting, and welcoming newborn animals; in summer, "Crops grow in the warm sun. Tomatoes ripen. Cornstalks stretch from the earth." Pebble Plus continues to produce high quality, high interest nonfiction for early readers. Each book includes a table of contents, glossary, index, and resources for students interested in learning more about the topic.
THOUGHTS: An attractive addition for collections looking to update their offerings on the four seasons or any reader who enjoys learning something new.
577 Nature of Life         Lindsey Long, Lower Dauphin SD