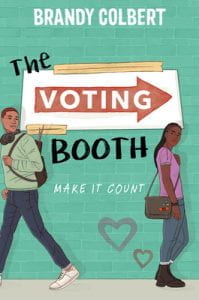 Colbert, Brandy. The Voting Booth. Hyperion, 2020. 978-1-368-05329-7. $18.99. 293 p. Grades 9 and up.
It's election day, and Marva has been waiting for this day for her entire life. A passionate advocate for equality and democracy, her first election day is like a holiday for this high school senior in the running for valedictorian at her private prep school. Duke is less enthusiastic but is still getting up early to vote in his first election, too. His family's passion about politics – particularly his activist brother's who died two years ago – deems he participate in the democratic process. He knows it's important to vote, but he's more excited about his band's first paying gig tonight. He learned to play drums as therapy after his brother's death, but it turns out he's really good at it. Marva is – of course – first in line at her polling place and casts her vote without issue. Just when she thinks she can head off to school and then relax on the couch tonight watching election results with her social media-famous cat Selma, she overhears Duke being rejected by the poll workers. Apparently he's at the wrong polling place; he pre-registered at his dad's address before his parents separated. Thus begins Marva and Duke's adventure, a day exemplifying Murphy's Law: everything that can go wrong does. First, Duke's car won't start as he tries to head to the correct polling place. Marva offers to drive him. Skipping school and driving around with a strange boy all morning probably isn't the best idea, especially since Marva is sort-of fighting with her boyfriend of two years, but hey, this is important. Despite racism and voter suppression and parents and missing cats and an angry boyfriend and a gig Duke can't miss, Marva and Duke can't deny the positive thing resulting from this crazy day: that they found each other.
THOUGHTS: Another gem from award-winning author Brandy Colbert, The Voting Booth is a super cute romance that still manages to highlight serious issues. A very timely book that would pair well with another 2020 publication – Running by Natalia Sylvester – this book would serve as a fantastic independent or supplemental read in a Social Studies class discussing the voting process in America. Told in alternating points of view between Duke and Marva, so it appeals to both male and female readers. Highly recommended for all high school collections.
Realistic Fiction           Sarah Strouse, Nazareth Area SD