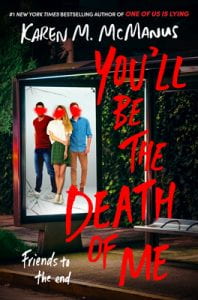 McManus, Karen. You'll be the Death of Me. Delacorte Press, 2021. 978-0-593-17586-6. 336 p. $19.99. Grades 9-12.
She's back again. New characters, same sticky mystery style that has the reader guessing until the end. In McManus' newest novel, we meet Ivy, Mateo, and Cal who used to be friends in middle school, but now as seniors, it's been a long time since they've hung out. Enter: The worst day ever. McManus has yet to shy away from heavy and uncomfortable topics like the opioid crisis, death, and on the periphery, racism. This story starts with a student death, from an overdose or murder, and genuinely keeps the pages turning faster and faster as tiny clues and back stories surface through this varying point-of-view novel. Ivy, Mateo, and Cal work together to solve how their classmate died, and to keep themselves out of trouble.
THOUGHTS: If McManus' novels aren't on your high school shelves yet, purchase all of them, but don't expect them to stay on your shelf long. Her classic whodunit style is laced perfectly with an authentic take on the high school experience (hopefully with a lot less drugs, drama, and death!). 
Mystery          Samantha Hull, Ephrata Area SD