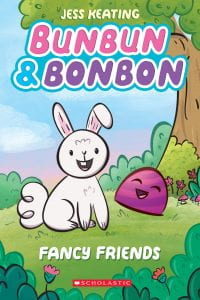 Keating, Jess. Bunbun & Bonbon: Fancy Friends. Scholastic, 2020. 978-1-338-64684-9. $22.99. Grades K-3.
Bursting with cuteness, a lonely Bunbun hops around saying hello to sticks, flowers, clouds, and rocks until a purple candy Bonbon answers. The pair become fast friends bonding over their shared fondness for fancy things like bowties, sprinkles, and hip-hop music. Later, they decide to have a fancy party followed by donuts for lunch. Impossibly adorable illustrations brimming with hearts and flowers will introduce readers to the graphic format. Characters communicate in single-sentence speech bubbles throughout five chapters. Emergent readers are sure to get lost in the silly, friendly antics of this unlikely duo.
THOUGHTS: Fancy Friends is a fun, infectious story that is sure to make young readers laugh out loud.
Graphic Novel          Jackie Fulton, Mt. Lebanon SD