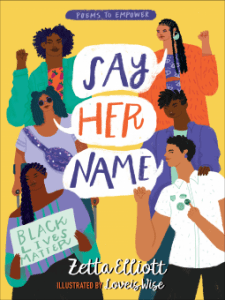 Elliott, Zetta. Say Her Name. Little, 2020. 978-1-368-04524-7. 96 p. $18.99. Grades 8+.
A beautiful collection of poetry that celebrates the voices of Black women and girls throughout the ages. The colorful pages call the reader to reflect and act in the world in which we live. Four poems are tributes to and inspired by strong Black women's voices of the past including Lucille Clifton, Audre Lorde, Nikki Giovanni, and Phillis Wheatley. The collection is clearly meant for Black women and girls, but can be enjoyed by all readers, regardless of their identity. Each page is empowering and can be a solid springboard for discussion.
THOUGHTS: Although stunning, this remarkable collection is recommended for high school libraries who need to revitalize their print poetry material or who have readers interested in reflection, self-care, and individual insight.
811 Poetry          Samantha Hull, Ephrata