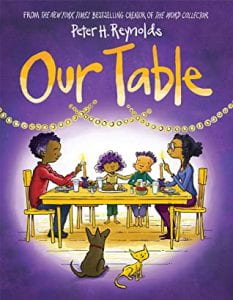 Reynolds, Peter H. Our Table. Orchard Books, 2021. 978-1-338-57232-2. $17.99. 48 p. Grades Pre K-3.
This sweet story is about a young girl who notices that her family is spending less time together, being pulled in various directions and being lured away from each other by technology. The dining room table represents the family being pulled apart by slowly shrinking, and eventually disappearing all together. So the little girl uses technology to bring her family together, by building a new table as a family.
THOUGHTS: Peter H. Reynolds never disappoints. This sweet story is a reminder of what is truly important.
Picture Book         Krista Fitzpatrick, Wissahickon Charter School