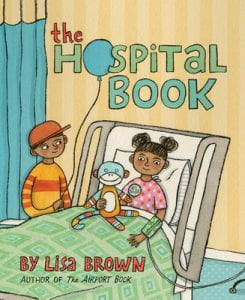 Brown, Lisa. The Hospital Book. Neal Porter Books, 2023. 978-0-823-44665-0. Unpaged. $18.99. Grades K-3.
The Hospital Book follows our main character as she navigates having appendicitis and going through the process of the emergency room, having surgery, and going through her recovery. The illustrations also showcase the different things happening in the hospital and help to engage the reader as they follow our main character. There is an author's note at the end, which addresses the timing of when the book was written, an explanation of why she included certain illustration details, as well as a thank you to the various doctors and medical staff that helped her with her book.
THOUGHTS: This was a lovely picture book that deals well with a delicate topic of hospitals and sickness. This book would be a wonderful addition to any elementary  collection.
Picture Book
Tags: hospitals, surgery, nurses, doctors, appendicitis, feelings, families.