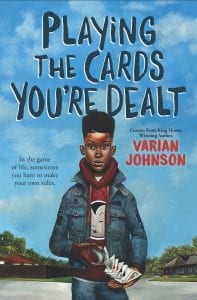 Johnson, Varian. Playing the Cards You're Dealt. Scholastic, 2021. 978-1-338-34858-3 320 p. $16.99. Grades 4-7.
Anthony "Ant" Joplin and his older brother Aaron have been schooled in the card game Spades by their father. In the Joplin family, Spades is serious business. There is a tradition of Joplin men winning their South Carolina town Spades tournament. Aaron has followed through, winning the teen tournament last year, but Ant, in his first year competing in the junior division, choked big-time. His father claims he just needs to "toughen up" and he'll win this year. Ant and his best friend, and Spades partner, Jamal, have been practicing nonstop, but when Jamal gets suspended for fighting, Ant needs to find a new partner. Luckily there's a new girl in Ant's fifth grade class, and Shirley is as much of a card shark as Ant. But Ant is finding it tough to concentrate on cards when things are tense between his mom and dad, and Aaron, who attends boarding school, tasks Ant with keeping an eye on their father to see if he's starting drinking again. But how does a 10-year-old even know what drinking looks like? Fortunately for Ant, Shirley turns out to be as good a friend as she is a card player, and helps him navigate through this challenging hand he's holding. While the plot deftly explores the pressures put on young children by troubled adults, the narrative style keeps the tone light and comfortable. The book feels like a story being told by an older relative, sitting on a porch swing on a summer evening, including personal asides by the narrator. Johnson vividly portrays the damage toxic masculinity can wreak on families, particularly the younger men and boys who must pick up the pieces. Ant is a young man who discovers what it means to be tough, in the most difficult situation imaginable, and readers will be cheering for him to win the hand he's dealt. All main characters are Black.
THOUGHTS: A well-developed story that hooks you from the very beginning. This should fly off the shelf.
Realistic Fiction          Nancy Nadig, Penn Manor SD