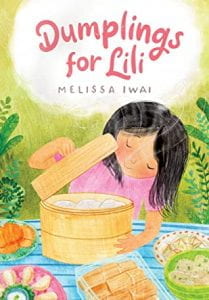 Iwai, Melissa. Dumplings for Lili. Norton Young Readers, 2021. 978-1-324-00342-7. Unpaged. $17.95. Grades K-3.
Lili is excited to help her grandmother make baos, her favorite type of dumplings. When they discover they are out of cabbage, however, Lili goes to see if an upstairs neighbor has any cabbage they can use. The neighbor gives her cabbage, but in return, asks for some potatoes for her pierogies. This leads Lili to another neighbor's apartment, and so the process continues. Finally, everyone has what they need to make all of their favorite kinds of dumplings. This culminates in a big dumpling party, during which Lili's parents return with a sweet surprise. A charming celebration of food, family, and multiculturalism, this is an excellent addition to any elementary collection.
THOUGHTS: I just love how all of the grandmothers in this book represent different cultures, as they are all making dumplings from different regions. There are pierogies, tamales, raviolis, fatayers, and more. I could see this book being used in a world cultures class, and it would be especially fun to assign students or groups of students each a different culture from the book to study. Perhaps they could even make the dumplings from their respective cultures, and then the class could try them all. The recipe and instructions for Lili's grandmother's baos is already included in the back matter. There definitely are plenty of opportunities for extension activities with this book!
Picture Book          Julie Ritter, PSLA Member