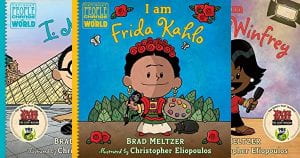 Meltzer, Brad. Ordinary People Change the World. Dial Books for Young Readers, 2021. $14.27 ea. $385.29 set of 27. Unpaged. K-3.
I am Frida Kahlo. 978-0-525-55598-8.
I am I. M. Pei. 978-0-525-55601-5.
I am Oprah Winfrey. 978-0-593-40582-6.
In this remarkable biography series, Brad Meltzer presents American icons in an extremely conversational, unintimidating manner. Beginning with their childhood, he tells each person's story from his/her own point of view, focusing on personality traits that made each of them unique. Cartoon-like drawings and speech bubbles are interspersed with realistic images (like actual works of art) to make each story more intriguing. A timeline and photographs are included at the end of each book. I personally reviewed I am Frida Kahlo, and I absolutely loved the message being sent to the intended audience. Despite all of Frida's difficulties in life – a bout with polio, a terrible bus accident, being ostracized because of her dress and actions – she remained true to herself and became a legend because of it. Not only does this encourage children to overcome curveballs in life, but it also sends them the message that they should be unafraid of being different. The format of these biographies definitely is unique and deserves to be considered for inclusion in all elementary biography collections.
THOUGHTS: This series would be extremely useful for biographical research as well as for character building activities. I also would recommend it to fans of Xavier Riddle and the Secret Museum on PBS Kids, as the television series was actually inspired by this book series. In addition, it is worth noting that there are 24 other books in the series with publication years before and after 2021.
921 Biography          Julie Ritter, PSLA Member