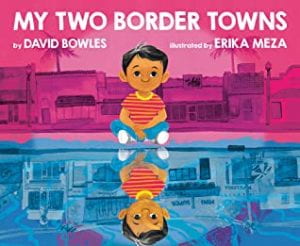 Bowles, David and Erik Meza. My Two Border Towns. Illustrated by Erika Meza. Kokila, 2021. 978-0-593-11104-8. Unpaged. $17.99. Grades K-2.
Life along the U.S. – Mexico border can be more similar than different, especially for a small Hispanic boy who makes weekend trips back and forth with his father. "Vamos a la otra lado." (Let's go to the other side.) Once they pass through customs into the Mexican town, they run chores, visit family, and eat at their favorite places. The boy is proud of the gifts and supplies that they are collecting along the way. Erik Maza illustrates the town with friendly people, peaceful streets, and colorful tones. David Bowles brings in Spanish terms and phrases with mostly English narrative to tell their routine journey. The trip ends with an important and realistic stop near the border bridge, where a large group of refugees are camped out and waiting. "The US says there's no room, and Mexico says it can barely look after it's own gente." The boy seeks out his friend who is waiting, and hands over the collected toys, comics, medicine and supplies to the grateful family. The dilemma of crossing the border freely as citizens leaves the boy, and perhaps the readers, wishing for a future of compassion and friendship.
THOUGHTS: Making a complex and never ending issue such as immigration and border control work through the eyes of a child is always a lesson in empathy. In this case, the author chooses to show the connections rather than the divisions between the two countries with a stunning effect. Discussions comparing similarities and differences between students' towns and the story may continue the conversation. Recommended.
Picture Book          Dustin Brackbill, State College Area SD