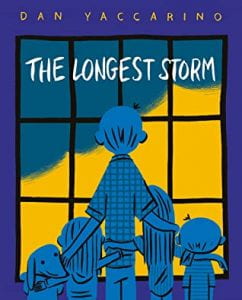 Yaccarino, Dan. The Longest Storm. Minedition, 2021. 978-1-662-65047-5. Unpaged. $18.99. Grades PreK-2.
When a storm rolls in, a family must stay at home and figure out how to live together without getting on one another's nerves. At first, this proves difficult, and the family struggles to get along. However, when the power goes out one particularly scary night, they all apologize to one another and things gradually improve until the storm ultimately passes. 
THOUGHTS: This book clearly was written as a reflection on the recent disruption of familial routines during the COVID-19 pandemic. I love the hopeful message it offers readers: humans are resilient, and the love of family can carry one through any storm, whether it be a pandemic, an illness, the death of a loved one, or any other hardship. Hand this book to any young reader who is going through a rough patch and needs some reassurance.
Picture Book          Julie Ritter, PSLA Member