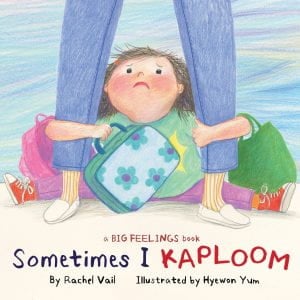 Vail, Rachel. Sometimes I Kaploom. Illustrated by Hyewon Yum. Orchard Books, 2023. 978-1-338-84030-8. $18.99. Grades PreK-1. Unpaged.
Katie Honors is an incredibly brave kid. She can climb up high, sleep in her own bedroom, try new foods, and much more. However, sometimes when her mother drops her off at school, she kaplooms. Her emotions overcome her, and she falls on the floor, grabbing her mother's legs and crying. While she doesn't feel very brave during these episodes, her mother assures her that it's okay to feel sad and/or scared; it doesn't make her any less brave. This heartfelt tale of separation anxiety concludes with notes from the author and illustrator explaining their own experiences with this all-too-familiar scenario.
THOUGHTS: This would be a great addition to any social-emotional learning collection. The mother in the story demonstrates a very healthy response to her child's behavior, taking the time to comfort Katie and validate her feelings. Separation anxiety is such a common occurrence that this book would be extremely relatable for most young children. Pair it with Vail's other installment to the Big Feelings series, Sometimes I Grumblesquinch (2022), for an even deeper exploration of feelings and emotions.
Picture Book