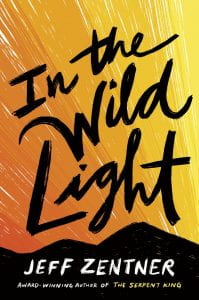 Zentner, Jeff. In the Wild Light. Crown Publishers, 2021. 978-1-524-72024-7 429 p. $17.99. Grades 9 and up.
Set in a small Tennessee town, two misfits from troubled families develop a strong bond after meeting at a Narateen meeting. Cash is struggling to come to terms with his mother's death, the knowledge that his beloved grandfather is dying, and his fear that he has no special gift to offer anyone. Delaney is a brilliant, self-taught scientist who discovers a bacteria-destroying mold with potential medicinal benefits.  Because of this discovery, she is offered a full ride scholarship to an elite New England prep school and secures a spot for Cash as well.  Delaney is determined to start anew and pushes Cash to join her, though he believes he is not deserving of this opportunity and fears missing precious time with his grandfather. They both struggle to adjust to their new life so far removed from their roots but are fortunate to find a friendship with two other new students at Middleford Academy and to nurture their own interests and passions and the special bond between them.
THOUGHTS: A thoughtful, coming of age story with a strong focus on the value of friendship and family, with charming characters, beautiful descriptions, and some gorgeous poetry. Touching, emotional, and heartfelt, this book will be appreciated by fans of All the Bright Places and Looking for Alaska.
Realistic Fiction                Nancy Summers,   Abington SD