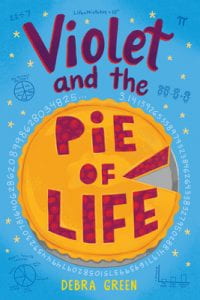 Green, Debra. Violet and the Pie of Life. Holiday House, 2021. 978-0-823-44755-8. $18.99. 279 p. Grades 5-8.
Violet is a quiet kid who loves math, pie, and her best friend McKenzie. Violet and McKenzie try to navigate seventh grade together, as they always have, but they begin to grow apart as Violet's parents separate, and Violet begins to spend more time with Ally, a friend from the school play that McKenzie does not like. As Violet struggles with her parents' problems and with her perception that some people have a "perfect life," she begins to realize that all families are more complicated than they seem on the surface, and all aspects of life cannot be easily distilled into the mathematical equations, flow charts, and logical lists that she uses to try to make sense of the changes she is experiencing.
THOUGHTS: This novel brings the struggles and friendships of middle school students to life in an authentic way, and the story uses humor, math, and the arts to show that people are flawed, but still deserving of love and opportunity.  The understanding that grows between Violet and her mother is a heartwarming and hopeful presentation of adolescent-parent relationships, and Violet's relationship with her father experiences a closure that is poignant if not satisfying. 
Realistic Fiction          Erin Faulkner, Cumberland Valley SD