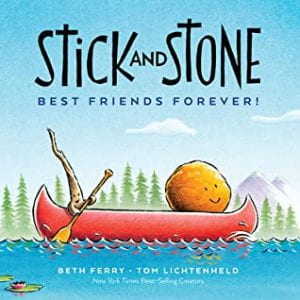 Ferry, Beth. Stick and Stone Best Friends Forever. Houghton Mifflin Harcourt, 2021. Ill. Tom Lichtenheld. 978-0-358-47302-2. Unpaged. $17.99. Grades PreK-1.
We've always heard, "Sticks and stones may break my bones…", but when Stick and Stone get together, they don't break bones. They play on a slide; they read books; they hike and canoe; they are best friends. So, when Stick decides he wants to find his family tree, Stone goes with him on his quest. "They wander [and] explore", but Stick can't find his family. When pinecone shows up after a scary experience in the forest, Stick realizes he may never find his family tree, but that's okay because he'll always have Stone. 
THOUGHTS: This is a beautifully illustrated story of what it means to be a family. Stick doesn't know what type of tree he is, but Stone says that's okay because they have one another, and it doesn't matter "if you're oak or you're pine […] you'll always be mine." This story shows children that all friends and families come in different shapes and sizes, and it's love for one another that makes a family. This is a wonderful story of acceptance, and as always, Tom Lichtenheld's illustrations are vibrant and beautiful.
Picture Book          Erin Bechdel, Beaver Area SD
Stick and Stone are best friends. When Stick decides he wants to find out where he came from, the duo head out in search of Stick's family tree. Their journey takes them through forests, across valleys and creeks, and into the mountains. Before long, they become lost and frightened. Eventually, they run into Pinecone, who guides them safely home. Although Stick doesn't find his family tree, he does learn something about what family means and realizes that he had one all along. The rhyming verse and cheerful illustrations will have children devouring this delightful story about friendship.
THOUGHTS: I could see this book resonating especially with students from unconventional or broken homes. It could help them understand and appreciate the value of "found family." Fans of Mo Willems's Elephant & Piggy books would also enjoy this amusing tale of friendship.
Picture Book          Julie Ritter, PSLA Member