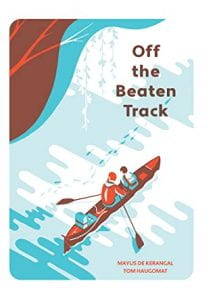 Kerangal, Maylis de. Off the Beaten Track. Greystone Kids, 2021. 978-1-771-64685-7. Unpaged. $18.95. Grades 3-6.
Ten-year-old Paul goes on a mountain trek with Bruce, an old family friend. Paul is somewhat unsure of himself at the beginning of their journey, lacking the confidence of a seasoned mountain climber. However, when he and Bruce find themselves in a precarious situation, Paul must find courage within himself in order to save their lives. The adventurous narrative is complemented by simple graphics in a limited palette of blues, browns, reds, and whites. The story does leave the reader with unanswered questions (such as what happened to Paul's parents, as he lives with his aunt and uncle), but the unconventional style of the book still warrants its consideration for purchase.
THOUGHTS: Although the story itself left something to be desired, I found the uniqueness of this book very intriguing. Not only was the style of the illustrations uncommon, but the way the book was actually written was also unusual. The illustrator completed the images first, using only his own imagination, and then the author viewed the illustrations to invent the story. I absolutely could see this being used in a classroom for students or groups of students to invent their own stories in a similar fashion.
Picture Book          Julie Ritter, PSLA Member