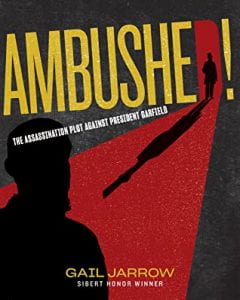 Jarrow, Gail. Ambushed! The Assassination Plot Against President Garfield. Calkins Creek, 2021. 978-1-684-37814-2. Grades 5-12
Author Gail Jarrow (Blood and Germs, Poison Eaters) is back with another top notch medical-related non-fiction title for secondary students. This time, she has turned her focus to the assignation of President James Garfield. Garfield was a respected former college president, Civil War general, and Congressman who was elected President in 1880. On July 2, 1881, Charles Guiteau, a disgruntled office seeker, shot Garfield shortly after he entered a train station. Though medical professionals in Europe had been advancing theories regarding germs and the importance of treating wounds with antiseptics, these ideas found little acceptance in America. Therefore, when Garfield was examined, his doctors probed his wound with dirty fingers and instruments. Garfield lingered for months, slowly wasting away as infection ravaged his body. The country united together, in hopes that Garfield would survive, but he passed away on September 19, 1881. Jarrow makes extensive use of primary documents, including diary entries and other communications to relate Garfield's story. Numerous photographs, paintings, and illustrations enhance the text. Backmatter includes a glossary, timeline, and list of additional resources. 
THOUGHTS: Since Garfield's presidency was short, he is little remembered today, which is unfortunate. He had an amazing life story, which Jarrow outlines in the beginning of this engaging title. Even though he was in constant pain following being shot, he remained in good spirits and never complained, even while undergoing painful (and as the reader learns, unsanitary) treatments. Readers will gain an appreciation for Garfield and an appreciation for how far medical knowledge and treatment has advanced. Highly recommended.
973.84 American History        Elizabeth Henry, Lampeter-Strasburg SD