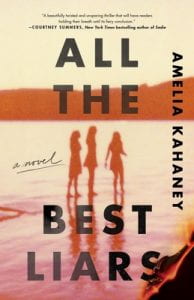 Kahaney, Amelia. All the Best Liars. Flatiron Books, 2022. 978-1-250-31270-9. 324 p. $18.99. Grades 9-12.
At the age of nine, Syd, Rain, and Brie are inseparable as friends until Brie moves to a more upscale neighborhood and leaves Syd and Rain behind. Fast forward to their senior year when tragedy strikes these three teenagers. It is a few weeks before they graduate, and they all attend a huge party. At this party, everything comes to a head and that night will see one of the trio dead. This book is for fans of a slow burn thriller that revolves around high school friendships and drama. The twists and turns of the story will keep the reader engaged until the last page.
THOUGHTS: I read this book quickly and really enjoyed the character development. The story does involve high school parties with drinking and drug use. This is a book geared towards high school students. Fans of Karen McManus would enjoy.
Mystery          Victoria Dziewulski, Plum Borough SD
Thriller