Ashman, Linda. William's Winter Nap. Disney Hyperion, 2017. 978-148472282-4. Unpaged. $17.99. Gr. PreK-2.
On a cold winter night, a boy name William is ready to settle into his warm, cozy bed when he is awakened by a tapping on the window.  It turns out to be a chipmunk who is seeking shelter from the cold, so William makes room in his bed for the chipmunk, and the two settle in. Before long, they are awakened by a porcupine knocking at the door.  The porcupine is also looking for a warm place to spend the night, so William and the chipmunk make room for the porcupine before going back to sleep.  This trend continues until the bed fills up, at which point an extremely large animal shows up at the door.  The group must decide if they can make enough room or if they are going to turn the animal away.  Beautiful illustrations and well-paced rhymes make this an endearing choice for young readers. THOUGHTS: Although this book may not have any obvious curricular connections, it could definitely serve as an introduction to many relevant topics.  For instance, because the last line reads "I'll see you in the warm spring light," it could be used to introduce the concept of hibernation.  Also, it would be a great discussion starter for emphasizing the importance of hospitality and generosity towards others.  Lastly, this would be a great title to read aloud and encourage young children to make predictions based on context clues.  Will they let the last animal in?  Why or why not?  If so, how will they make room?  A very delightful and engaging selection that is definitely a solid purchase for most libraries.
Picture Book      Julie Ritter, Montoursville Area SD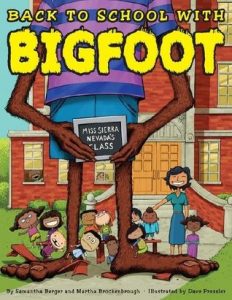 Berger, Samantha and Martha Brockenbrough. Back to School with Bigfoot. Arthur A. Levine Books, 2017. 9780545859738. Unpaged. $16.99. Gr. PreK-2.
Berger and Brockenbrough have teamed up to create an amusing version of the back-to-school story. Told in first person by Bigfoot himself, the book tells the story of Bigfoot preparing for a new school year. He has a lot of worries, such as whether he can stand still for a class picture or find clothes that fit.  Just when he has made up his mind that he should not go back, he begins thinking about all that he might miss, like a school field trip and his friends.  Bigfoot happily returns and in his haste, he breaks through the front door.  The book design helps make this book a great read aloud, as some words are highlighted in a larger font and beg to be emphasized.  Dave Pressler's illustrations are over the top funny and the drawing of Bigfoot's family at the graduation ceremony is priceless. Children will ask for this book to be read again and again.  THOUGHTS:  This work is a great addition to elementary libraries for their back-to-school collections.
Picture Book         Denise Medwick, West Allegheny School District
Pace, Anne Marie. Groundhug Day. Disney Book Group, 2017. 9781484753569. $17.99. 32p. Gr. PreK-2.
Moose wants to plan a Valentine's Day party with his friends. The problem is that one of his friends is Groundhog. Moose, Squirrel, Porcupine, and Rabbit are worried that if Groundhog sees his shadow on Groundhog Day he'll go back to sleep for six more weeks and miss the big Valentine's Day party. They all come up with a different idea on how they can stop Groundhog from seeing his shadow and spend all night arguing about it. Because they never get to enact one of their ideas, Groundhog sees his shadow and hurriedly goes back into his house. It turns out Groundhog is afraid of shadows, but with his friends' help, he sees all the ways shadows can be fun. Unfortunately, he still won't make it to the big party since it isn't warm enough for him above ground yet. His friends understand as he goes back home to hibernate for another six weeks – and comes back out just in time for St. Patrick's Day! But now Bunny is missing! THOUGHTS: This picture book is a nice Groundhog's Day addition to your library for the illustrations alone, but the story will also be appreciated by young readers. And there's a clever ending that involves the final picture of Bunny on the last page (he is painting Easter Eggs).
Picture Book      Bridget Fox, Central Bucks SD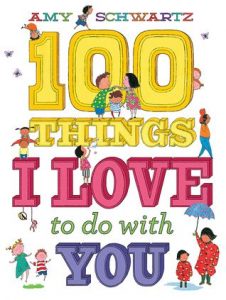 Schwartz, Amy. 100 Things I Love to Do with You. Abrams Appleseed, 2017. 9781419722882. $16.95. 40p. Gr. PreK-1.
100 Things I Love to Do with You is literally a picture book filled with simple illustrations of one-hundred activities that young readers can do with their parents/guardians or friends.  THOUGHTS: This is a book that contains activities like make mud pies, help the sun rise, hop like bunnies. I can imagine an adult asking the child to act out some of the activities as they go through the book (although they can't all be acted out). Some pages have only one activity listed with a big illustration and some pages have, two, three, or four activities on each page. The illustrations were average.
Picture Book    Bridget Fox, Central Bucks SD