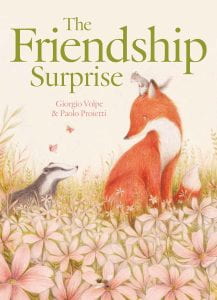 Volpe, Giorgio. The Friendship Surprise. Red Comet Press, 2022. 978-1-636-55028-2. 32 p. $17.99. Grades K-3.
As spring draws near, Little Red the fox can't wait for his friend Hazel the dormouse to wake up from hibernation. He's missed her over the long winter, but Little Red also has a secret. While Hazel has been hibernating, he's become close friends with a badger named Brock. Little Red isn't sure how to tell Hazel about his new friendship with Brock, so he keeps it secret. Hazel eventually notices that Little Red is acting differently, and she secretly follows him into the woods one day. She confronts Little Red about his friendship with Brock and reassures him that she's not mad that he has a new friend; rather, she believes that all three of them can have fun together. Beautiful, nature-centered illustrations ground this story that explores the complexity of friendships in a child-friendly way. 
THOUGHTS: This title will be valuable for discussing the ideas that having more than one friend is okay and that friendships come in all shapes and sizes. It will also be useful for reinforcing the idea that just because someone makes a new friend, that doesn't mean old friendships must end. Share this one with guidance counselors to assist with SEL lessons. 
Picture Book          Anne Bozievich, Southern York County SD