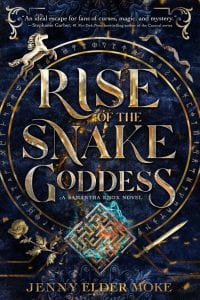 Elder Moke, Jenny. Rise of the Snake Goddess (Samantha Knox #2). Disney-Hyperion, 2022. 978-1-368-06727-0. 320 p. $17.99. Grades 7 & up.
Desperate to be a part of the prestigious archaeology program at the University of Chicago, Sam Knox embarks on an impulsive trip to the island of Crete. The clues she deciphers lead her to the legendary girdle of the Snake Goddess. Triumphant with her find, Sam plans to use this find as proof she deserves to be admitted to what has always been a "boys club." However, before she can show her misogynist professor her find, the girdle is stolen and a series of catastrophic earthquakes suddenly begin to hit the island. Sam and friends Joana and Bennet Steeling must find the thief and return the girdle to its rightful place before the magic of the Snake Goddess is fully released upon the island and the world. As the chase brings them deeper into Cretian and Minoan mythology, deadly encounters with legendary creatures abound, including the infamous Minotaur.
THOUGHTS: This is a fantastic follow up to the first Samantha Knox title, Curse of the Specter Queen. Readers will enjoy the friendships, light romance, and adventures that mark popular YA fiction. A quickly-paced novel paying homage to Indiana Jones and The Mummy movie series, Snake Goddess takes readers through the legends of Knossos and Crete while infusing the story with a touch of magic. Knox herself is tempted by the magic of the Snake Goddess, but the story takes readers on an adventure through archaeological digs, swanky boat parties, and the legendary labyrinth.
Adventure          Natasha Lewis, Whitehall-Coplay SD
Historical Fiction
Fantasy