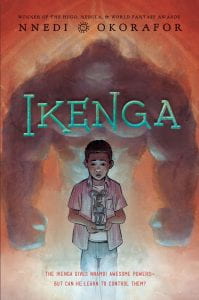 Okorafor, Nnedi. Ikenga. Viking, 2020. 978-0-593-11352-3. 227 p. $16.99. Grades 6-7.
Nnamdi is devastated when his father, the police chief of their Nigerian town, is murdered. He vows to get revenge, but a year later, the murder remains unsolved, and Nnamdi is increasingly frustrated as he sees his mother struggling to support them, especially after she is mugged by one of the brazen petty criminals who torment the town. That is when he encounters his father's spirit, who gives him a small figurine called an Ikenga. Nnamdi soon discovers that the figure imbues him with superpowers like those of his favorite comic book hero, the Hulk, when he becomes enraged. While Nnamdi means to use his powers for good, taking down various local crooks, it soon becomes evident that Nnamdi has to learn how to harness his superpowers before he seriously harms someone. His alternate ego, known as The Man, is garnering much attention in the town and from the press, but not always positively, After nearly injuring his best friend, Chioma, and a classmate, Nnamdi runs away from home and hides, so he cannot endanger anyone else, or himself. However, Chioma, after an interaction with the spirit of Nnamdi's father, pieces together what is happening and tracks Nnamdi down. With Chioma's support, Nnamdi learns to control his abilities, unearths who murdered his father, and faces down the local crime boss. Nnamdi is an engaging character with great big flaws to go with his great big heart. Readers will empathize as he makes mistakes along the way, whether it's jumping to conclusions or being unable to control his rage when he is The Man. Okorafor skillfully places the reader in Nnamdi's Nigerian town, through use of local dialect and evocative description. One can easily conjure the sounds and smells of the marketplace or Nnamdi's home. While most of the plot threads are wrapped up by the end of the book, a few loose ends hint at a sequel, which will be eagerly anticipated.
THOUGHTS: Great for fans of myth-based literature, and ties in superbly with Kwame Mbalia's Tristan Strong series. Unfortunately, the use of profanity may make its placement in an elementary school library problematic, leaving it with a limited audience.
Fantasy          Nancy Nadig, Penn Manor SD