George, Kallie. The Lost Gift. New York: Schwartz & Wade Books, 2016. 978-0-553-52481-p. Unpaged. $17.99. Gr PreK-2.
It's Christmas Eve and four forest friends are happy to catch a glimpse of Santa and his sleigh. A gust of wind drops a package nearby and Deer, Bird, Rabbit, and Squirrel realize that it's meant for the New Baby at a nearby farm. The friends decide to deliver the package for Santa and spend a long, cold, hungry night delivering the gift. While they have second thoughts (especially grumpy Squirrel), they realize that it was worth the effort when they see New Baby's delight at her new rattle. The animals trudge home and find a gift from Santa waiting in the snow—a delicious treat to fill their empty bellies. When Squirrel wonders "But how did he know?" Rabbit replies "Santa always knows." Stephanie Graegin's simple and colorful illustrations create a real feeling of the season. THOUGHTS: This sweet, simple holiday story will be enjoyed by little kids and big kids alike.
Picture Book     Lindsey Long, Nye & Conewago Elementary Schools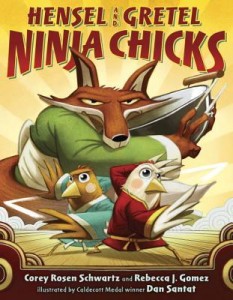 Schwartz, Corey Rosen, and Rebecca J. Gomez. Hensel and Gretel: Ninja Chicks. New York: G.P. Putnam's Sons Books for Young Readers, 2016. 978-0399176265. 40pp. $17.99.  Gr. K – 3.
A companion book to The Three Ninja Pigs and Ninja Red Riding Hood, this book is just as action packed and fun! Their mother is missing, so these smart sisters decide to get some proactive ninja training at the 3 Pigs Dojo, where the motto is "Get Empowered, Not Devoured." When their father goes missing, they follow, leaving a trail of breadcrumbs behind. Bad idea, but they persevere. When suddenly a tempting cornbread house is found, will Hensel and Gretel be able to escape temptation? Fortunately one of these fowls keeps their head and is able to sneak in, distracting the fox to rescue Ma. The other, after a momentary lapse of judgement picks the lock and joins the fray!  THOUGHTS: The fast pace and perfect rhymes in this book match the success of the other two books by these fabulous collaborators. Girls and boys alike will get a kick out of these powerful poultry.
Picture Book      Emily Woodward, The Baldwin School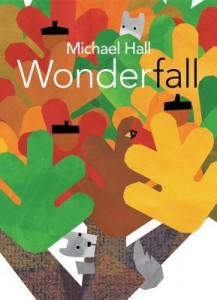 Hall, Michael. Wonderfall. New York: Greenwillow, 2016. 978-0-06-238298-6. Uppaged. $17.99. Gr. K-3.
"In this book you will discover 1 colorful tree, 2 scurrying squirrels, and 15 blended words created to celebrate the wonder of fall!" This is the description in the inside jacket, and it sets the stage for the contents that follows. With short, simple, and touching poems that are accessible to younger readers, Hall has created a very attractive autumn book. The colorful collage illustrations will call Ehlert and Carle to mind, and closer exploration shows several continuing mini-stories with the squirrels. The titles of each poem replace the suffix -ful/full with the seasonal -fall, and it makes the words more meaningful… I mean, meaningfall! Enjoy this seasonal sensation – you'll be thankfall that you did.  THOUGHTS: This would be a fun lesson on playing with words, studying suffixes, or creating short poems. The end of the book also connects back to animals who appear in the book and describes how they survive the coming winter. Plus, there's a page about those pesky squirrels and their protective oak tree.
Picture Book      Dustin Brackbill, State College Area