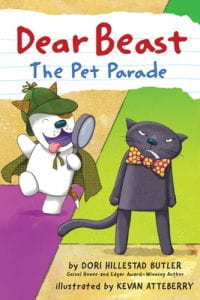 Butler, Dori Hillestad. Dear Beast: The Pet Parade. Holiday House, 2021. 978-0-823-44493-9. 80 p. $15.99. Grades 1-3. 
Dear Beast: The Pet Parade is book # 2 in the heartwarming early chapter book series by author Dori Hillestad Butler and illustrator Kevin Atteberry. Cat and Dog lovers will love this series about a jealous cat, a lovable dog, and an owner (a young boy) that has no idea his pets are pen pals. The series is portrayed and written as letters between the two animals, and the books are perfect for young readers transitioning into chapter books. In book # 2, Simon the Cat wants to maintain his pride and avoid wearing a costume for the annual city pet parade. Simon is content to sit this one out and encourages Baxter, the dog, to wear a costume and march with Andy in the city parade. But when Baxter keeps the outfit a mystery- Simon begins to worry that Baxter is up to no good. Can he be trusted? It's up to Simon to save the day and make sure things go off without a hitch. The adorable storyline celebrates the joy of friendship, the love of pets, and the fun of writing letters.
THOUGHTS: Dear Beast is a charming series for beginner readers. The characters are fun and lovable, and the hilarious dialogue is presented through handwritten letters with spelling mistakes between the two furry characters with fun wordplay. I especially love that the book has a special note in the back that clarifies the characters' misspelled words. I am eager to read more books in this delightful series and will recommend the series to others!
Early/Beginning Chapter Book          Marie Mengel, Reading SD