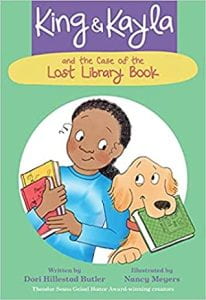 Butler, Dori Hillestad. King & Kayla and the Case of the Lost Library Book. Peachtree, 2022. 978-1-682-63215-4. 47 p. $14.99. Grades K-2. 
King (a dog, and the narrator of the King & Kayla series) wants to play with his owner Kayla, but she doesn't have time. She's busy searching the house for her missing library book. She needs it so she can participate in book exchange at the library. King loves listening to Kayla read him stories, so he decides to help her look for the book. When Kayla's friend Jillian stops by, she joins in the search, too. Together, Kayla and Jillian create a list of things they know about the missing book and what they don't know. (King wants to contribute to the list, but unfortunately for him, the girls don't understand dog-speak). The girls then determine a plan of action to try to locate the book. With a little help from King, the book is found and the crisis averted. 
THOUGHTS: This delightful early chapter book will hold great appeal for readers. It serves as an excellent gateway to mystery/detective stories and could also be used in lessons about problem solving or even in a talk about locating lost library books. The book incorporates humor through the character of King, who can be somewhat excitable in his efforts to solve the mystery.
Early Chapter Book          Elizabeth Henry, Lampeter-Strasburg SD