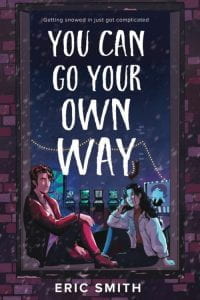 Smith, Eric. You Can Go Your Own Way. Inkyard Press, 2021. 978-1-335-40568-5. $18.99. 336 p. Grades 9 and up.
Adam Stillwater's family pinball arcade, Old City Pinball, is in trouble. Since his father passed away, it's been just Adam and his mom trying to keep the business afloat, and with the popularity of esports rising, people just aren't interested in playing the old machines anymore. Adam still has a passion for pinball though, and he spends most of his time maintaining the machines at the arcade and continuing to build a custom Philly-themed machine his father began designing and building before he passed away. Whitney Mitchell runs the social media for an esports café – West Philly esports – owned by her father. As her father looks to expand business, there is talk of him buying Old City Pinball – which would be bad enough on its own but is doubly troubling for Adam since he and Whitney were childhood best friends. Adam's father's death and Whitney gravitating towards new friends in high school separated them, but when Whitney's dad started a rival business, the two of them occasionally sparred on social media, effectively freezing what was once a warm and fuzzy relationship. Now it's their senior year, and an incident with Whitney's brother at Old City Pinball bring Adam and Whitney together again. Being forced to interact in the weeks that follow help to thaw their icy feelings for each other, and Whitney finds talking to Adam comforting after her boyfriend breaks up with her and she begins to drift from her toxic friends. Their banter on social media and in person is even bordering on flirtatious, which is confusing given how public their dislike of each other has been for the past several years. Adam can fix a pinball machine, and Whitney can nurse just about any plant back to health, but fixing feelings isn't quite as simple. They can't escape trying though as a blizzard overtakes Philadelphia leaving Adam and Whitney trapped inside Old City Pinball for a night.
THOUGHTS: Fitting that the pinball arcade is in the "Old City" section of Philly since the theme of this lighthearted romance is very much about old vs. new, letting go and moving on, and focusing on what's most important. You can put this book in the hands of any of your regular library patrons as it involves several library-adjacent activities like gaming, makerspaces, and coffee bars, even though it doesn't actually take place in a library. Set in Philadelphia and full of fun Philly references, this book is geographically relevant for our Pennsylvania readers and makes for a fantastic winter break read. A bonus for readers of Eric Smith's previous YA novel, Don't Read the Comments: its main characters make a quick cameo appearance. Final thought – author Eric Smith is also a literary agent, and his website contains some super educational tips and information on the publishing field, an area aspiring writers are often left to figure out on their own.
Realistic Fiction          Sarah Strouse, Nazareth Area SD