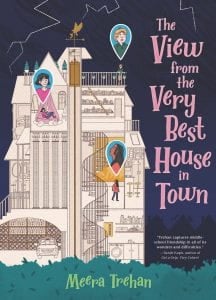 Trehan, Meera. The View from the Very Best House in Town. Walker Books, 2022. 978-1-536-21924-1. $17.99. 261 p. Grades 4-7.
Asha and Sam have been friends forever. Sam is obsessed with astronomy, Asha with architecture, and both love playing the video game Househaunt on their phones. Each friend suspects the other is on the Autism Spectrum, but the pair have never discussed their diagnoses. When Sam is accepted into elite prep school Castleton Academy, Asha has to face public middle school without her best and only friend. In the center of town, high on a hill, sits the ostentatious mansion named Donnybrooke, home to pretty and popular Prestyn Donaldson. Years ago Asha was invited inside but has since been banned by Prestyn's overbearing, social-climbing mother. Asha marvels over the home's unique architectural style and years to return to study the building. Adjusting to life at Castleton is not easy for Sam, who struggles socially until Prestyn appears to befriend him. But is Prestyn truly Sam's friend? How do friends treat each other? Is an alliance with a friend who is manipulative and mean worth it? Told from the alternating perspectives of Sam, Asha, and the mansion Donnybrooke, this book examines the true meaning of friendship and acceptance. The characters (including that of the mansion itself) are beautifully depicted with extreme sensitivity and care taken to portray the inner thoughts and feelings of the students identified on the Autism Spectrum.
THOUGHTS: Debut author Meera Trehan is a lawyer who has represented many families whose children have unique and diverse educational needs. She is also mother to a daughter with Autism. The story itself is fabulously entertaining. The Donnybrooke chapters are a highly amusing investigation of human behavior. It is the complexity of the characters and their families that won me over in this novel. This book would make a fabulous classroom read aloud, and offers many opportunities for discussions about families, friendships, Autism, kindness, acceptance, and the value and worth of success.
Realistic Fiction    Anne McKernan, Council Rock SD