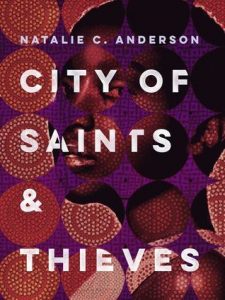 Anderson, Natalie C. City of Saints & Thieves. G.P. Putnam's Sons, 2017. 978-0-399-54758-4. 401 pp. $18.99. Gr. 9 and up.
As a small child, Tina fled Congo with her mother Anju and relocated to Sangui City, Kenya. There Anju found work as a maid at the estate of Mr. Greyhill, a mining executive with questionable business dealings. She was murdered in his home office several years later, and the case was never solved. Now orphaned, Tina has nursed her thirst for revenge for years. She joins a street gang called the Goondas who provide a family of sorts and even a way to bring down Greyhill via a complicated heist. When the break-in is interrupted by Greyhill's son, Tina's childhood friend Michael, the two form an unlikely alliance in a quest for the truth about Anju's murder and Extracta Mining's role in trading conflict minerals. THOUGHTS: This powerful debut novel has an enticing premise, a richly realized setting, strong characters, and more than one big reveal. It's got elements of a murder mystery, techno-thriller, and refugee story rolled into one wonderfully complex page-turner!
Realistic Fiction, Thriller, Murder Mystery      Amy V. Pickett, Ridley School District
City of Saints & Thieves takes readers on a fast-paced adventure as Tina seeks revenge on the man she has always believed killed her mother. Set in the Congo and Kenya this mystery/adventure will draw readers in as they puzzle the mystery surrounding Tina's mother's death and their escape from the Congo years before.
Realistic Fiction       Maryalice Bond, South Middleton School District
Carter, Ally. Take the Key and Lock Her Up (Embassy Row Book 3). Scholastic Press, 2017. 978-0-545-65495-1. $17.99. 327 pp. Gr. 7 and up.
Grace Blakely is back in book three of Embassy Row.  After learning of her royal lineage, Grace, Alexei, and Jamie are on the run from those who want them dead (and want to arrest Alexei for murder).  When they are found by the prime minister of Adria, Grace realizes that she cannot hide forever and must return to Adria to face her future.  Of course, Grace doesn't go quietly and first returns, although inadvertently, to the town where they lived when her mother died.  After a visit to her mother's store, Grace, Jamie, Alexei, and Dominic find a hidden basement that holds the truth (and some secrets) to her mother's past, death, work, and Grace and Jamie's future.  With the help of Rosie, Noah, and Megan, Alexei and Grace set out to find the truth behind the society, the work that killed Grace's mother, and the future of Adria.  THOUGHTS:  Take the Key and Lock Her Up is a great conclusion to another fabulous Ally Carter trilogy.  Although Grace Blakely is one of the most annoying characters in recent years, she is a strong (and annoying) female protagonist, who truly understands the world around her, but still remains (and acts) like a teenager.  Embassy Row is a must-have series for any library serving teens.
Mystery         Erin Parkinson, Beaver Area School District