Freeman, Martha. Effie Starr Zook Has One More Question. Simon & Schuster/Paula Wiseman, 2017. 978-1-4814-7264-7. $16.99. 218 pp. Gr. 3-6.
Effie is a curious child who is not afraid to inquire and investigate. While staying at her aunt and uncle's farm in rural Pennsylvania one summer, she doesn't mean to dig into her family's history, but before long that is just what she ends up doing. Along the way, questions arise about their wealthy inheritance, a longstanding feud with another family, and how to handle the angry goat in the yard. But problems with her parents' expedition around the world and feeling unsure of her own place in the world leave Effie ready to ask some deeper questions and face the consequences of the answers.  THOUGHTS: Martha has explored a great variety of styles and genres over her career, and this work is among her best. I recently held a short interview with her and Amy (aka A.S.) King about connections between this book and Marvin Gardens and Me. Please feel free to read and share, and maybe build some new bridges of understanding!
Realistic Fiction      Dustin Brackbill, State College Area SD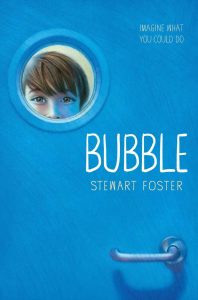 Foster, Stewart. Bubble. Simon & Schuster Books for Young Readers, 2017. 9781481487429. $16.99. 346 pp. Gr. 4-8.
What if your life was held within the confines of one room? It's not because you are held hostage, but because of potential germs that your body can't fight off. It's not because you aren't loved, because your sister, best friend, nurses and millions on tv all care for you, even though your parents are dead. Life in that one room becomes a whole lot more interesting when the idea of breaking out of the bubble seems possible, but there are huge risks and consequences. Come into Joe's world through his narrative fiction and learn that what defines him is much bigger than four walls. This British novel will create empathy and curiosity in young readers as they meet Joe and those who surround him.  THOUGHTS: Looking for a novel to compete with Wonder for empathy and character and heartache? Look no further! I found the story to be fascinating, funny, and well-written, even though we are left out of some of the scientific details of his condition.  
Realistic Fiction     Dustin Brackbill, State College Area SD
Frost, Helen.  When My Sister Started Kissing.  Farrar Straus Giroux, 2017.  978-0374303037. 208 pp. $16.99. Gr. 4-7.
Claire and Abi are headed to the lake with their father to stay at their family's cabin for the summer. Claire wants everything to be the same as it always has been, but she knows her world is about to change. Her new stepmother is coming with them, and a baby will be joining the family before the summer is over.  What's worse, Abi seems more excited about boys than about swimming or canoeing.  Frost writes in verse, mostly from Claire's point of view, but some of the poems feature Abi's voice, and a few are written from the unusual perspective of the lake.  The styles of the poems are appropriate for each narrator. Claire's are rhymed quatrains, reflecting her desire for tradition; the lake's poems are written in a concrete style that mirrors its shape, while the lines in Abi's poems continually stretch further forward, reflecting Abi's eagerness to grow up.  Some of the poems also include hidden messages that students may enjoy finding.  THOUGHTS:  Both Claire and Abi are believable, likeable heroines. Their relationships with each other and with their father and new stepmother are sensitively portrayed. This is a beautiful and beautifully written story about the gap between childhood and adolescence, perfect for tween readers who are either not quite ready to make the leap, or have just recently crossed over it.
Realistic Fiction           Maggie Bokelman, Cumberland Valley SD
Stone, Tamara Ireland. Click'd. Disney Hyperion, 2017. 978-1-4847-84976. $19.99. 304p. Gr. 4-7.
Allie Navarro is a 12-yr old coding genius. Instead of spending the summer playing travel soccer with her best friends she went to CodeGirls summer camp at Fuller University. It was there that she developed an app called Click'd that was so well-received that she was entered into the G4G competition. If she wins the contest her game will be given financial backing to become a reality, and she has one week to make sure her coding is solid. Click'd is an app that matches you up with the top ten people who have common interests. Through the use of a leaderboard and scavenger hunt you get introduced to people you might not already know, but who you might "click" with. She decides to share her app with her closest friends to show them how she spent the summer, and her friends love it. Allie decides to open it up to her school just so she has real world data for the judges at this week's competition. The app goes viral and her coding holds up except for one tiny thing, and it might not be so tiny. Allie has to race against the clock to try and find the problem, and the only person that can help her is her longtime nemesis. THOUGHTS: This book was a fun, fast read and I think I will be successful book-talking it to my 7th graders. Some of the story is predictable, like Allie's app matching her up with her longtime rival, but that doesn't detract from the story. The story takes place over the course of a week with some flashbacks to Allie's summer at the coding camp. The timely subject matter of social media apps and the damage they can do and the wholesomeness of the characters make it a good book for the middle aged set.
Realistic Fiction      Bridget Fox, Central Bucks SD
Alli's had an amazing summer at CodeGirls camp, and though she's excited to get back to her friends, she's also sad to be away from her new friends that get her coding excitement. While at camp, she built her own app, CLICK'D, to help people meet each other and make new friends. She knows her app will be successful in this year's youth coding contest, where she hopes to edge her competition and classmate Nathan. Allie's school friends are so excited to try CLICK'D they convince her to release it before the contest.  At first CLICK'D is great, and it's working exactly as Allie hoped, then the app seems to glitch. Allie has to decide if it's worth the risk of keeping the app live while trying to fix the glitch or shut it down and risk losing her new found popularity.  THOUGHTS: Click'd takes a look inside the mind of a girl who is trying to navigate friendship while figuring out what really matters to her. Readers will be subtly cautioned about content on their phones and what they post for all to see. This was a lighthearted and fun read that shows girls it's okay to like coding and be competitive.
Realistic Fiction       Maryalice Bond, South Middleton School District