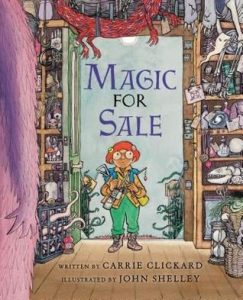 Clickard, Carrie. Magic for Sale. Holiday House, 2017. 9780823435593. Unpaged. $16.95.  Gr. K-3.
Georgie McQuist is on a mission to find the ghost that is rumored to be hidden in Miss Pustula Night's magic shop on a dare from his classmates. This shop is full of magical supplies, like "mirrors that talk back to you."  After entering the shop, Georgie falls into the basement through a hidden trap door. There he finds the unhappy ghost, who has been banished to the basement until he completes an inventory of its contents. The boy and the ghost accomplish the task, much to the dismay of Miss Night, who demands that Georgie leave immediately.  That he does, with a friendly monster in tow. The boy takes the monster to school for Show and Tell, which scares his classmates who initiated the dare.  Clickard is very clever in her use of rhyming text, which follows an AABBA pattern throughout the text.  The placement of the text adds a creative touch on some pages. Shelley's illustrations are done in pen, ink, and watercolor.  The full bleed images are very detailed and children will enjoy poring over them to examine the magical artifacts. The characters and objects are depicted in a whimsical style and are appropriate for young children. THOUGHTS: This book is perfect for children who like their scary monster stories on the mild side.  A good addition to elementary collections.
Picture Book, Fantasy        Denise Medwick, West Allegheny School District
Higgins, Ryan T. Bruce's Big Move. Disney Hyperion, 2017. 978-136800354-4. 40pp. $17.99. Gr K-3.
Bruce, the grumpy bear who unexpectedly became a mother to four geese and three mice who won't move out, is back in this third edition in the series. With so many animals sharing his den, Bruce finds it's too crowded, messy, chaotic, and loud. He tries to get rid of the mice, but they just won't leave. So, Bruce leaves instead. He packs up his geese and heads off on his scooter in search of quieter lodgings. After finally settling on a secluded lake cabin, Bruce is happy, but the geese are mopey and missing the mice. It isn't until the moving van pulls up and the mice begin making themselves at home that Bruce realizes some things will never change. Readers who've enjoyed this unconventional family's story will find plenty to chuckle about as Bruce tries his hardest to reclaim his peaceful lifestyle before ultimately embracing his new reality of home.  THOUGHTS: Pair this title with Vera Brosgol's Leave Me Alone! for a storytime centered around caregivers searching for sanity amongst the chaos of their crowded homes.
Picture Book       Anne Bozievich, Southern York County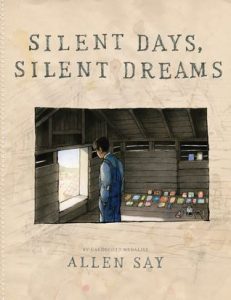 Say, Allen. Silent Days, Silent Dreams. Arthur A. Levine Books, 2017.  978-0-545-92761-1. 63pp. $21.99. Gr 3-6.
James Castle was deaf, mute, dyslexic, and autistic, but nothing got in the way of his creative genius. Born in 1899, he spent his entire life living and creating art in attics and chicken houses on Idaho farms. Castle was a self-taught, untrained artist, and more than 15,000 pieces of his artwork survive today. This fictional story, narrated by Castle's nephew, is based on real-life information, letters, and interviews about the artist. After studying Castle's style and researching the mediums he used, including burned matchsticks, saliva, sharpened sticks, soot, and shoe polish, Caldecott-winning illustrator Say created this book's images using some of the same mediums and drawing on Castle's original artwork as inspiration. The result is a unique tribute to a largely unknown American artist, one who overcame any obstacle he encountered to fulfill his innate desire to create. A lengthy author's note describes how Say first learned about Castle, and it also discusses his own process of creating this book's unique illustrations.  THOUGHTS:  Although lengthier than many traditional picture books, this title could be used in conjunction with other books about people overcoming disabilities or as part of a biography unit. Art teachers may be interested in highlighting the unusual mediums Castle used to create his artwork.
Picture Book       Anne Bozievich, Southern York County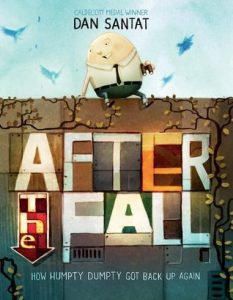 Santat, Dan. After the Fall: How Humpty Dumpty Got Back Up Again. Roaring Brook Press, 2017. 978-1-62672-682-6. Unpaged. $17.99. Gr. K-5.
After his classic and well-known accident, Humpty Dumpty has a tough time getting back into his usual routine. He loves watching birds (which is, of course, why he was hanging out on a high wall in the first place) and his fear of heights now prevents him from being close to them. Even the top grocery store shelf with the most delicious cereals and his bunk bed are no longer options. One day, Humpty gets an idea to make a paper airplane bird. He knows it's hard, but he keeps trying and trying through several failed attempts until his paper bird can fly high in the sky, close to the birds in his place. When his bird lands on top of the wall, Humpty almost gives up again, but then he thinks of all the hard work he's put in and all the things he's missed. He's very scared, but he manages to climb the wall, one step at a time, "…until I was no longer afraid." A final surprise makes this story of simple, real emotions even better. THOUGHTS: Santat's beautiful, carefully designed illustrations help convey the range of Humpty's emotions and struggle. Share this story with any group who could use help broadening their growth mindset.
Picture book             Lindsey Long, Lower Dauphin School District