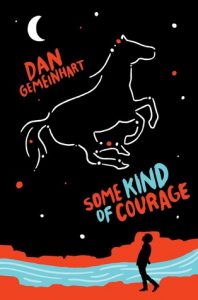 Gemeinhart, Dan. Some Kind of Courage. New York: Scholastic, 2016. 978-0545-665773.  $16.99. 234 pp.  Gr. 4-9.
In Washington state in 1890, Joseph Johnson has lost his mother and younger sister to typhoid and his father to a wagon accident.  He's left in the care of a miserable man who underhandedly sells Joseph's last remaining link to his family, his horse Sarah.  This action emboldens Joseph to take his father's gun and most of the money from Sarah's sale to follow Sarah's trail and retrieve her.  Moral and resolute, Joseph encounters quite a few setbacks in his long journey, but he never wavers.  He frequently remembers wise pieces of advice from his parents, and that advice guides him in his decisions, notably, the decision to bring along an orphaned (it would seem) young Chinese boy in a time and place where racism is relentless.  Despite being unable to speak one another's language, Joseph and Ah-Kee develop a strong understanding and full respect for one another.  The journey and its resolution are rife with adventure, a longing for home, and heartache.  It is this mixture, lived through the morally steadfast Joseph, that makes the tale such a needed one for young readers. THOUGHTS: A strong second novel that has me seeking out Gemeinhart's first (The Honest Truth) and third novels (the just-published Scar Island).  Geminhart expertly reveals Joseph's character and makes believable the people and places he encounters.  Highly recommended.  
Historical Fiction        Melissa Scott, Shenango High School

Gidwitz, Adam. The Inquisitor's Tale: Or, The Three Magical Children and Their Holy Dog. New York: Dutton Books for Young Readers, 2016. 978-0-52542-616-5. $17.99. Gr. 6-12.
In 1242, travelers gather over ale at a dark inn to hear the story of three children and their greyhound. Each traveler, from a wizened nun to a thieving jester, relays a chapter (or more) of their run-in with these children, who, during the course of the tale, go from enlightened thieves to cold-hearted criminals. The story begins with prophetic Jeanne and her faithful greyhound, Gwenforte, returned to life 10 years after her death. Accused of witchcraft and on the run, Jeanne runs into William, a larger than life monk-in-training with incredible strength and a kind heart, and Jacob, a gentle, thoughtful Jewish boy who can heal wounds with his hands. On their travels, the children run into malicious knights, a farting dragon, a kind-hearted king, an evil queen, and many others each as unforgettable as the last. While set in the Middle Ages, the story explores issues of race, religion, and sexism that are still relevant today. In a tale not unlike the famous Canterbury Tales, readers young and old will delight in the story of these young adventurers, and are treated to phenomenal artwork by Hatem Aly throughout.  THOUGHTS: This is a delight for readers of all ages. Aly's illustrations, inspired by medieval illustrated manuscripts, add depth and humor to Gidwitz's excellent story.
Historical Fiction               Vicki Schwoebel, Friends' Central School
Fantaskey, Beth. Isabel Feeney, Star Reporter. New York: Houghton Mifflin Harcourt, 2016. 978-0-544-58249-1. $17.99. 334 pp. Gr. 4-7.
Nineteen twenties Chicago; a time of mobsters, prohibition, and murder, and ten year old Isabel Feeney is smack dab in the middle of it all.  A newsgirl for the Chicago Tribune, Isabel aspires to be a reporter, like the infamous Maude Collier, but for now, she must help her mother with the rent by selling newspapers.  One evening, after selling a paper to Miss Giddings, one of her best clients, Isabel hears a gunshot in the alley just past her news corner.  When she arrives, she sees Miss Giddings covered in blood, a gun, and mobster, Charles Bessemer, dead on the ground.  Isabel knows that Miss Giddings couldn't have killed Charles Bessemer, her fiance, but Detective Culhane sees things differently.  As Isabel sets out to find the true murderer, she befriends her idol, Maude Collier, and the children of Miss Giddings and Charles Bessemer, who help with the investigation, but is also threatened by those who want Miss Giddings to take the blame.  THOUGHTS:  This is a fun historical mystery for middle school and upper elementary students.  Fantaskey does not rely too much on the history of the 1920s, but more on the girl-detective and female independence.  
Historical Mystery      Erin Parkinson, Beaver Area MS/HS