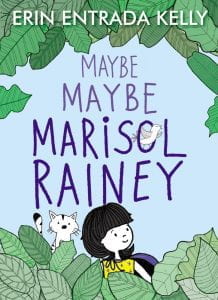 Kelly, Erin Entrada. Maybe Maybe Marisol Rainey. Greenwillow Books, 2021. 978-0-062-97042-8. $16.99. 160 p. Grades 3-6.
Newbery Award winning author, Erin Entrada Kelly, delivers the first in a new series with character Marisol Rainey. Marisol is a Filipino American living in Louisiana with her family. She and her best friend Jade are enjoying the start to the summer vacation by playing lots of games, using their imagination to create their own fun, and climbing the tree in Marisol's backyard. Except, Marisol is petrified to climb the tree. Not being brave enough to climb the tree in her backyard is just one of Marisol's many fears. There are plentiful illustrations throughout the book, drawn by Kelly herself.
THOUGHTS: This engaging book has everything a popular series needs to be a hit with readers. Marisol's anxieties make her very relatable and the humor laced through Kelly's writing will entertain even the most reluctant readers.
Realistic Fiction          Krista Fitzpatrick, PSLA Member