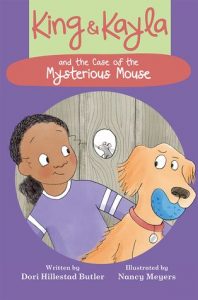 Butler, Dori Hillestad. King and Kayla and the Case of the Mysterious Mouse. Peachtree, 2017. 978-1-56145-879-0. $14.95. 48 p. Gr. 1-3.
King is a dog, and Kayla is his human. King is the narrator of this entry level mystery series. King loves to play fetch with his ball, but one day King ends up with a ball that looks like his, but definitely is not his ball. Determined to find his ball, King starts investigating. A stray cat tells King Mouse took the ball. King tries to imagine just exactly how a mouse could take his ball. Kayla is also trying to solve the mystery, but King can't wait for her. He escapes, gets into the yard next door, and follows his nose right through the doggie door, where he meets a large dog named Mouse. Luckily, both dogs agree playing together is great! THOUGHTS:  Each page is liberally illustrated, including may full page illustrations. With spunky King as narrator, this book is sure to delight many a new reader who wants a "chapter book".   
Mystery      Nancy Nadig, Penn Manor School District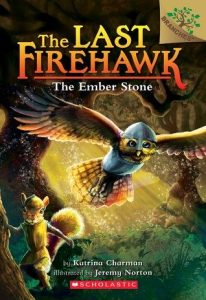 Charman, Katrina. The Last Firehawk.  Scholastic, 2017. $4.99 ea. 90pp. Gr. 1-3.
The Ember Stone. 978-1-338-12213-8.
The Crystal Caverns. 978-1-338-12251-0.
Small owl Tag yearns to be an Owl of Valor and prove his braveness. While he is too small to face battle, he unexpectedly gets an opportunity to show his mettle. When Tag and his squirrel friend Skyla accidentally stray far from home, they find an unusual egg that hatches into a firehawk, a mystical bird thought to be extinct. With the land under attack from Thorn, an evil vulture, the three friends are sent on a quest to recover the scattered pieces of the magical Ember Stone, which, when reassembled, will hopefully be strong enough to defeat Thorn. THOUGHTS:  These liberally illustrated books have enough text to provide a satisfying plot for young readers not yet ready for Erin Hunter's Warriors series.  
Fantasy      Nancy Nadig, Penn Manor School District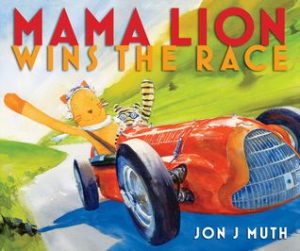 Muth, Jon J. Mama Lion Wins the Race. Scholastic Press, 2017. 978-0-545-85282-1. Unpaged. $17.99. PreK-Gr. 2.
It is race day, and Tigey and Mama Lion are vying for the big trophy.  In order to win, they must beat other characters like the Flying Pandinis, the Knitted Monkey crew, and Bun Bun.  However, as they fly through the countryside in their vintage cars, Tigey will soon learn that winning may not be everything.  The beauty of the world, the significance of kindness, and the value of friendship can be appreciated regardless of whether they win or lose.  Gorgeous illustrations, complete with cameos by well-known characters like Clifford the Big Red Dog and Mo Willems' Pigeon, complement this sweet story with an important message for young children.  THOUGHTS: Teaching children to be kind and compassionate towards others is a lesson that will never become obsolete.  This book, full of lovable characters, will serve as a great discussion starter for such a lesson. After reading the story, students could brainstorm acts of kindness that would be possible for them to do for others.  This pleasant story would make a great addition for any library that serves young readers.
Picture Book       Julie Ritter, Montoursville Area SD
Glass, Calliope. Avengers: Ms. Marvel's Fists of Fury. Marvel Press, 2017. 9781484781463. $17.95. 128 pp. Gr. 3-5.
Ms. Marvel has to fight bird creatures in this graphic chapter book. Kamala Khan is your average young, female Muslim girl from New Jersey. When she walked through an unusual mist she developed superpowers, like the ability to stretch her legs and super strength, that she now uses to protect the citizens of Jersey City while trying to do well in school. Ms. Marvel has a big biology test she needs to study for so, thankfully, Thor turns up to help her solve the avian crime spree led by the half-bird Super Villain, The Inventor. In the story, Kamala must deal with real-life relationship issues with her good friend, Nakia since she doesn't know her friend is a superhero. Hijab-wearing, Nakia, doesn't understand why Kamala blows off her texts and their Biology test study date and Kamala isn't free to tell her the truth. Thor helps her to accept her faults and to learn to accept her friends' help.  THOUGHTS: Ms. Marvel's foray into chapter books for younger readers is a good way to introduce younger readers to the Marvel universe of characters and especially to the young, female, Muslim superhero, Ms. Marvel, who saves the people in Jersey City, NJ. A male Avenger superhero, Thor, shows up in this story to keep certain young male readers interested.
Juvenile Comic/Graphic Novel              Bridget Fox, Central Bucks SD