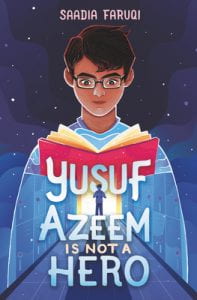 Faraqi, Saadi. Yusuf Azeem Is Not a Hero. Quill Tree Books, 2021. 978-0-062-94325-5. 357 p. $16.99. Grades 5-8. 
Yusuf lives in Texas with his family, and he has some big life changes coming up. He is starting middle school, hoping to enter a Robotics competition with his school's Robotics team and is spending time helping his family build their community's new mosque. However this is the 20th year anniversary of September 11th, and his community isn't happy about the new mosque, or any of his family living in their small town anymore. Yusuf has to deal with bullies from many different directions, and he isn't sure how to handle it. Will Yusuf be able to hold onto things that bring him such happiness in the face of so much hate and hostility?
THOUGHTS: This well told story touches on many things that today's readers are either familiar with from their own personal experience, or they have seen it happen to their friends and community members. This book handles these topics with grace and compassion as well as feeling authentic to the situation. Highly recommend this for any middle school collection. 
Realistic Fiction          Mary McEndree, Lehigh Valley Regional Charter Academy