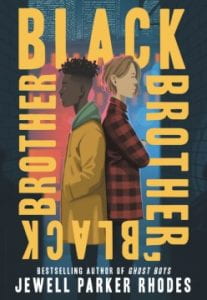 Rhodes, Jewell Parker. Black Brother, Black Brother. Little, Brown and Company, 2020. 978-0-316-49380-2. 239 p. $16.99. Grades 4-8.
Donte Ellison is a biracial 7th grader at the exclusive Middlefield Prep. Treated unjustly because of his skin color, he is suspended from school for something he did not do. His older brother Trey is beloved at the school, and many wish Donte could be more like his lighter skinned brother. Looking for a place to belong, Donte joins a local youth center where he meets a former Olympic fencer, Arden Jones, who runs the programs for the kids. Donte, who has never been an athlete, starts training with Jones, and soon finds his niche as a fencer. But when Donte and his team have to compete against his school's team, and the racist captain of the team whose family is the school's largest donor, Donte has to confront his emotions, his bully, and the racism that surrounds his sport.
THOUGHTS: This book addresses many tough issues in a way that is completely appropriate for middle grade readers.  At times I felt the book did not delve into the topics as much as I would have liked, but I think middle grade readers would not feel the same. Parker Rhodes is becoming a must purchase middle grade author!
Realistic Fiction          Krista Fitzpatrick, Waldron Mercy Academy