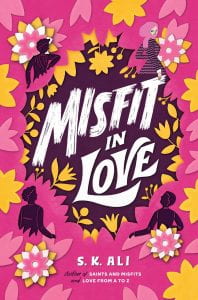 Ali, S.K. Misfit in Love. Salaam Reads / Simon Schuster Books for Young Readers, 2021. 978-1-534-44275-7. 320 p. $19.99. Grades 9-12. 
It's two days before her older brother Muhammad marries Sarah, the love of his life, and Janna is looking forward to the arrival of Nuah, who she finally is ready to tell "yes, I like you back." They're at her father's Mystic Lake, IN estate, though Janna has had her own strained relationship with her dad. Due to Sarah finishing her Master's degree and her family throwing their own official reception next year, wedding plans have been left up to Dad and Muhammad which means Janna has been there helping for weeks. It's been nice to spend time away from home, even with stepmother Linda and the laddoos, Muhammad and Janna's half siblings. Janna is excited to see her mom again, however awkward this huge family event may be, but she didn't count on an attraction to Sarah's gorgeous cousin, her mother's distraction with an old friend, and a brooding sad guy who seems to get Janna. Still, she's determined to reconnect with Nuah who, despite Janna's best efforts, seems distracted himself. As friends and family arrive for the celebration, Janna experiences a whirlwind of emotions.
THOUGHTS: With appearances by beloved characters from other Ali books, this is a must have addition to high school romance collections.
Romance          Maryalice Bond, South Middleton SD