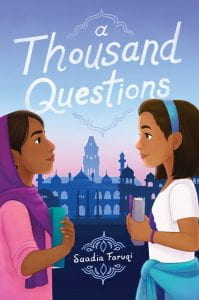 Faruqi, Saadia. A Thousand Questions. HarperCollins Children's Books, 2020. 978-0-062-94320-0. 225 p. $16.99. Grades 6-8. 
In this East meets West friendship story, A Thousand Questions shows the disparity in lifestyles between the United States and Pakistan told alternately by the two main characters. Eleven-year-old Mimi Scotts and her mother travel from Houston, Texas, for summer vacation to visit her wealthy grandparents, Begum Sahib and Sahiba Ji, in Karachi for the first time. She is awed by the wealth and luxury of her grandparents' home compared with her tiny apartment and stretched budget back in the United States. While Mimi's mother reconnects with her school chums, Mimi forms a friendship with the servant girl, Sakina Ejaz. Too poor to go to school, Sakina assists her diabetic father cooking in the Ji's kitchen. The two girls become fast friends. With the backdrop of the campaign season for new elections, Sakina shows Mimi the sites of Karachi, and Mimi agrees to tutor to Sakina for her English examination so that she can win a school scholarship. Mimi's narration includes secret letters she writes to Tom Scotts, the father she has never met. When Mimi discovers her freelance journalist father is living in Karachi, she is determined to meet him and Sakina is a willing accomplice. Author Saadia Faruqi captures the richness of the Asian city from the delicious dishes and its atmosphere to the inequity of the caste system as well as the authenticity of the fully-drawn main characters: Sakina, mature beyond her years, cognizant of her integral role in providing for the welfare of her family; Mimi, an ordinary American girl of modest means, getting to know her grandparents and also her own mother in her childhood home and longing to connect with father.
THOUGHTS: This book reminds the reader of When Heaven Fell  by Carolyn Marsden, a story that compares the life of  a struggling Vietnamese family with the life of an adult Vietnamese-American adoptee who visits her Vietnamese birth mother. There's a part where Sakini asks Mimi if there are poor people in America and Mimi answers, "No," at first until she remembers a homeless man and the kids at school who qualify for free lunch. Discussion of social justice issues, equity in education, and divorce can ensue.
Realistic Fiction          Bernadette Cooke, School District of Philadelphia
When Mimi and her mother arrive in Karachi, Pakistan for the summer, Mimi immediately misses air conditioning, soccer, and chicken nuggets, all staples of her American upbringing. Mimi is surprised to find that her grandparents live in luxury, employing servants and wearing fancy clothes, while Mimi and her mother can barely afford rent in their tiny Houston apartment. Mimi realizes there is so much she doesn't know about her mother, her grandparents, and her father who left years ago without explanation. After learning that her father's job brought him to Karachi, Mimi befriends a servant girl who agrees to help Mimi find him in exchange for English lessons. Sakina, a servant of Mimi's grandparents, dreams of going to school like Mimi, but her servant status prohibits her from making her dreams a reality. After all, when would she find the time to go to school when she must keep her job to take care of her own family and ailing father? Going to school seems even more impossible when she takes a secret exam and fails the English portion, but when Sakina and Mimi strike up their deal, Sakina starts to hope for her future and a better life for her family. As their friendship blossoms, the inequities of the Pakistani class system are revealed, and the friends determine to make good in both of their worlds despite the challenges.
THOUGHTS: Instead of multiple perspectives from different time periods, this story highlights two contemporary perspectives in a country many readers will be unfamiliar with. Shining light on the class system that still exists today in Pakistan, readers may feel compelled to learn more about the living inequalities and hardships people face who live outside of the United States. This is a good #ownvoices addition to any library seeking to diversity their collection.
Realistic     Jaynie Korzi, South Middleton SD