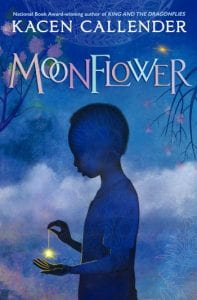 Calendar, Kacen. Moonflower. Scholastic Press, 2022.  978-1-338-63659-8. 272 p. $17.99. Grades 3-7.
The dreamy scenes and atmospheric tone of this novel contrast sharply with the depression and anxiety that plague the main character, a child named Moon. Moon has trouble sleeping, speaking, and attending school with other kids, and instead they choose to get lost in a world of magical realism where they feel more "real" than they do in real life. Their mother is clearly distraught and although she tries to help, Moon's mental health is not something she can cope with well on her own. Eventually, Moon's therapist and a cast of metaphorical guides they find on their journeys to the spirit realm help them realize that all people are worthy of love, and that life is full of pain, but also of great beauty and joy.
THOUGHTS: Moon's struggles throughout this book are highlighted by vivid descriptions of depression and suicidal thoughts that might be triggering for some people. Despite the pain that Moon endures, and the sometimes didactic internal dialogue we hear from them during their various encounters with antagonists, teachers and friends, the story ends on a tremendously hopeful note that centers around the idea that everyone deserves love.
Fantasy          Erin Faulkner, Cumberland Valley SD