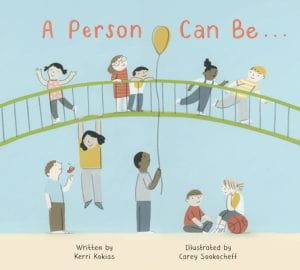 Kokias, Kerri. A Person Can Be... Kids Can Press, 2022. 978-1-525-30487-3. $18.99. 32 p. Grades PK-3.
Human beings are complicated. It is entirely possible to be more than one thing – in fact, it is possible for one person to embody opposite attributes. The opening pages of this sweet picture book show a neighborhood street. Simply drawn houses and yards are full of children and adults. As we look closer and peek into each home or backyard, we see that each person depicted is full of contradictions. A mother might think that feeding the family dog under the table is naught, but the dog thinks this act is kind. A young girl feeding a pet cat is careful while filling the bowl, but clumsy when she knocks over the entire bag of cat food. A boy with a huge bunch of balloons is lucky, and yet unlucky when one balloon escapes. It is possible to be loved and yet feel lonely; trying something new is exciting, yet can make you feel nervous. Delightful illustrations by Carey Sookocheff clearly focus on facial expressions to indicate each character's feelings, despite what the bigger picture portrays.
THOUGHTS: A Person Can Be… cleverly shows young readers that no one is solely one thing or another. We all are complex and even contradictory at times. Young children often grapple with understanding this concept. This book provides concrete examples of how simple, everyday activities, behaviors, and emotions can be at times contradictory. A great read aloud with plenty to discuss.
Picture Book          Anne McKernan, Council Rock SD