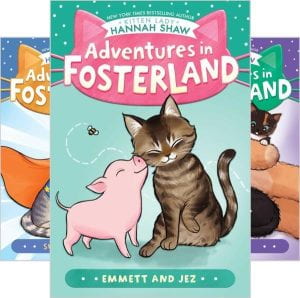 Shaw, Hannah. Adventures in Fosterland. Aladdin, 2022. $17.99 ea. $44.95 set of 3. Grades 1-3.
Super Spinach. 978-665-90125-3.
Emmett and Jez. 978-1-665-90119-2.
Baby Badger. 978-1-665-92555-6. (Expected in February 2023)

Adventures in Fosterland is a new series written by Hannah Shaw, who is involved with kitten rescue. Each volume is inspired by an actual animal rescue story. Emmett and Jez tells the story of a tiny piglet named Emmett who falls off a truck and is wandering on the side of the road when he is rescued and taken to "Fosterland." Fosterland the home of a nice lady who fosters animals until they are adopted. There, Emmett soon becomes fast friends with Jez, a kitten who is healing after surgery to remove an injured leg. As time passes, Emmett realizes that he and Jez are different in many ways from one another, and this means they might go in separate directions once they leave Fosterland. Will they find their forever homes? In Super Spinach, readers are introduced to Spinach, a kitten at an animal shelter. Spinach needs to have surgery on her ribs and is quite scared. An older cat tells her she will have to have superpowers to recover from the surgery. So when Spinach wakes up wearing a hard chest plate that will protect her while she recovers, she decides she must be a superhero with armor! Sent to Fosterland to recover, Spinach teams up with Chickpea, another kitten in Fosterland, and they soon are gaining confidence and taking on challenges they never would have dreamed of previously. When it's time for Spinach's chest plate to come off, she is worried that it means the end of her superpowers. But she soon discovers that you don't need armor or a costume to be brave. 
THOUGHTS: Hand this series to fans of animal stories, particularly cat lovers (each book in the series thus far features a kitten as one of the protagonists). Readers will enjoy these stories of friendship and will also learn important lessons about kindness and bravery. Each title contains a closing chapter where Shaw shares the real stories of the animals who inspired the series and the back cover features photos of the real Emmett, Jez, Spinach, and Chickpea. Recommended.
Animals          Elizabeth Henry, Lampeter-Strasburg SD