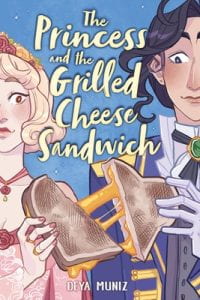 Muniz, Deya. The Princess and the Grilled Cheese Sandwich. Little, Brown and Company. 2023. 978-0-316-53872-5. 312 p. $17.99. Grades 9-12.
In the Kingdom of Fromage, a woman must be married in order to claim an inheritance. Camembert has no interest in marrying a man, so her dying father proposes that she "become" one instead. After his death, she disguises herself as a young man named Count Camembert and moves to the capital city of Fondue with her loyal servant, Feta, in tow. There she meets the beautiful and charming Princess Brie at a No Furs Ball where Cam wears a luxurious faux fur wrap. Sparks fly as the two team up to produce an event featuring cruelty-free fashion designers, but Cam can't risk revealing her true identity … or can she? After all, as the crown princess, maybe Brie can defy both expectations and gender/sexuality norms. Deya Muniz's artwork is rendered in lovely pastels and rich jewel tones. Muniz conveys emotion through the characters' dramatic facial expressions and body language. This graphic novel is a romance, so a happily ever after is all but guaranteed; the fun is in the cheese puns ("vintage Cheddior"), the mouthwatering grilled cheese sandwiches, and the genuine affection that readers will feel for the characters.
THOUGHTS: Great fun from start to finish, with a sweet romance wrapped up in fabulous fashions, this will delight fans of Jen Wang's The Prince and the Dressmaker.
Graphic Novel