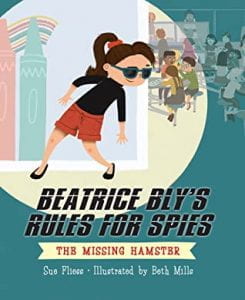 Fliess, Sue. Beatrice Bly's Rules for Spies. Pixel Ink, 2021. 978-1-645-95028-8. Unpaged. $17.99. Grades K-2.
Beatrice is a spy, but not any spy, a SUPER spy! She is ready to put her skills to the test when the class pet Edgar the hamster goes missing. She uses all of her spy skills to track down Edgar. Beatrice ends up tracking Edgar to the teacher's lounge, where the teachers are getting ready to have a luncheon! She is very pleased that her skills have led her to be able to solve this mystery. The illustrations are done in a way that lends to the plot with the great uses of shadows.
THOUGHTS: This is a cute picture book with a fun plot! This book is also a great way to introduce the mystery genre to readers who might be ready to take that step from picture books into early reader books, or even chapter books.
Picture Book          Mary Hyson, Lehigh Valley Regional Charter Academy