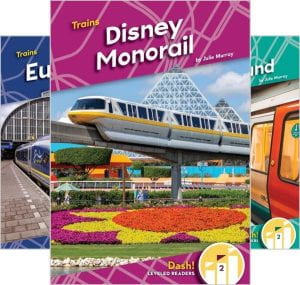 Murray, Julie. Trains. Abdo, 2022. $21.95 ea. $131.70 set of 6. 24 p. Grades K-3. 
Disney Monorail. 978-1-098-22671-8.
Eurostar. 978-1-098-22672-5.
London Underground. 978-1-098-22673-2.
New York City Subway. 978-1-098-22674-9.
San Francisco Cable Car. 978-1-098-22675-6.
Shinkansen Bullet Train. 978-1-098-22676-3.
Author Julie Murray explores the histories of some of the world's most popular trains in this new series intended for emerging readers. Each volume contains a brief history of the train (or train system) as well as an overview of the current operations of the train today. This reviewer had the opportunity to view the London Underground volume of the series. This volume traced the history of the Underground (or "The Tube") from its founding in 1863 to its present day services. Numerous historical photos and drawings as well as contemporary photos were present throughout the text. Back matter in each title includes a list of facts and glossary. 
THOUGHTS: This series is sure to be popular with young train enthusiasts who will enjoy learning about some of the unique and popular trains around the world. This series merits consideration for libraries serving younger readers looking to expand their transportation collection.
388.42 Transportation           Elizabeth Henry, Lampeter-Strasburg SD